For those who are struggling, the past two years have posed serious challenges that have left a third of Americans with no savings.
According to the U.S. Department of Agriculture, even before the pandemic hit, 10.5 percent of U.S. households faced food insecurity sometime in 2019. That's 35 million Americans who faced hunger when the economy was humming.
With many jobs returning as the pandemic eases, financial stresses have continued for many families. For one, rents are soaring locally. According to data from CoStar Group, a national real estate data company, Tampa Bay's average rent has increased 15.6 percent in 2021, the largest increase of any metro area in the United States. The average Tampa Bay apartment, which cost $1,058 per month at the end of last year, now is charging $1,223. Many families are feeling their food and holiday budgets, already strained, increasingly pinched. Rent alone now consume half the wages of Tampa residents earning $15 per hour—before taxes. Factor in expenses related to cars and transportation, needed to get to work, and it's no wonder why many working families still need a kind helping hand this holiday.
One of the Westchase area's most important traditions—our Annual Thanksgiving Food Drive—continues to help Metropolitan Ministries fill the great local need. Annually Metropolitan Ministries provides just under 2 million meals to needy local families. Our community's Thanksgiving Food Drive is their largest community drive in all of Tampa Bay.
Paula Dang, Metropolitan Ministries Senior Manager of Community Donations, remarked, "This holiday season we are projecting to serve more than 33,000 families in Hillsborough, Pasco, Pinellas, Polk, Hernando, and Manatee counties from November through December."
Dang added, "Our greatest food needs for this upcoming holiday season include turkeys, cereal, yams, beans, canned vegetables, stuffing mix, gravy mix, cake/dessert mix and soup."
Each year, hundreds of Westchase and Northwest families like yours make a difference—and make a holiday brighter for families and their children—by donating a whole Thanksgiving meal or a portion of one.
With your help, our neighborhoods can bring a happy Thanksgiving to hundreds of local hurting families.
To add to the holiday spirit, WOW is offering a prize of $250 for a holiday block party for the top performing neighborhoods. This year two neighborhoods with the highest percentage of homes donating frozen turkeys will win $250 for a holiday block party. One prize will be offered in Westchase and another in the top subdivision to the north of the Westchase Community Association.
Business/Resident Matchers
This year to encourage even more residents to participate, a number of local businesses and families have issued challenge matches to encourage you to put the Thanksgiving Food Drive on your shopping list.
The following businesses and Westchase families will match your donations or your participation in the drive in generous ways:
Nancy & Doug Wood, The Wood Team—Smith & Associates Real Estate: $1 per participating home up to $1,600.
Sandey Goodman of YogaSix in Westchase: 50 cents for every participating home (up to $500)
Courtney and Steve Netta and Family: 50 cents for every donated turkey up to $150 (Courtney Netta's parents will then match her donation!)
How to Help?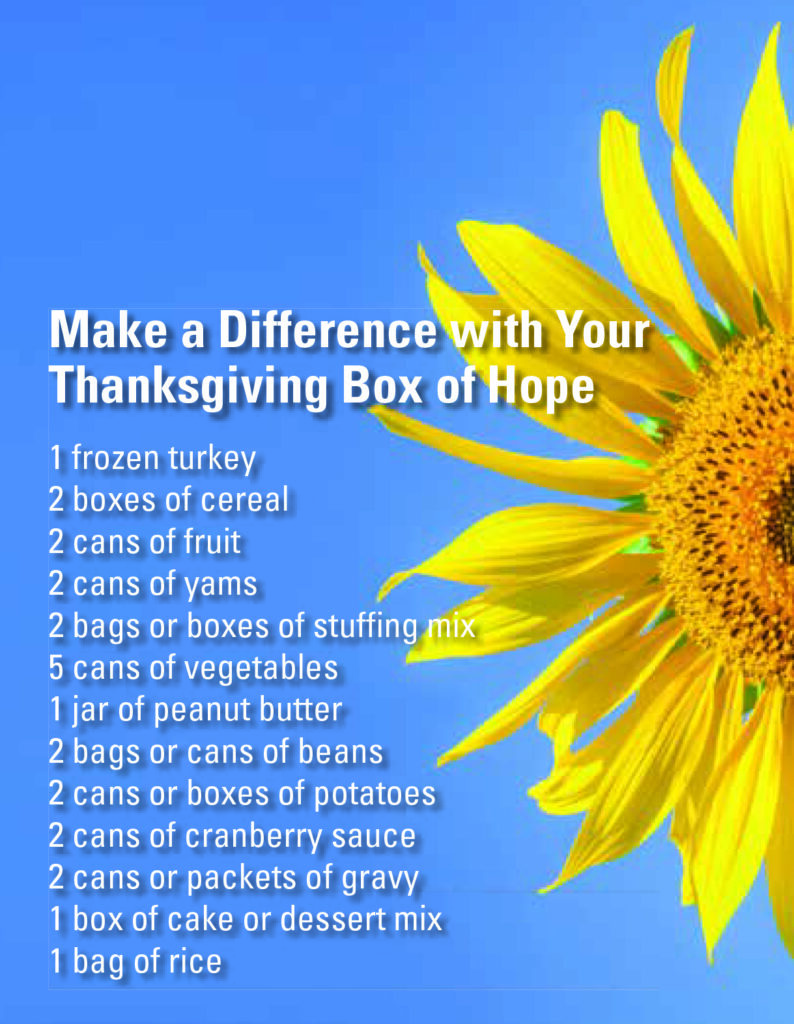 To join the community effort, simply purchase as many of the food items as you wish from the shopping list running with this article and place them in front of your homes, either out on your driveway or near your mailbox at 1 p.m. on Sunday, Nov. 21 (Please do not leave donations in alleys; these are not driven by our volunteers).
Whether you can afford only a few cans or an entire meal, we welcome your participation. If you are donating from your pantry, please check expiration dates before placing items out for donation. Expired items cannot be accepted.
The weekend prior to the drive, volunteers will leave a reminder flyer with the list at your door so you can take it to the supermarket with you.
If you're out of town on Sunday, Nov. 21, you can still participate. You can drop your donations off early at 10314 Seabridge Way in The Bridges. You can also leave donations with a neighbor to set out on your driveway on Nov. 21. (No frozen turkeys can be dropped off early, however, since no freezer space is available). If dropping off early, please include your address and subdivision name with your donation so that your neighborhood receives credit.
WOW's food drive volunteers will do the rest. Dozens will canvass neighborhoods and deliver reminder flyers over the weekend of Nov. 13-14. On Sunday, Nov. 21, volunteers will then drive through your neighborhood to pick up donations.
If you are donating a frozen turkey, please place it out as close to the 1 p.m. pick-up as possible to help keep it frozen.
If you are interested in volunteering with the drive, simply e-mail WOW Editor Chris Barrett at editor@westchasewow.com. We especially need volunteers in the Westwood Lakes neighborhoods.
WOW hopes even more residents and businesses participate in the food drive's matching campaign. Simply e-mail WOW Publisher Chris Barrett at editor@westchasewow.com for information on how you can be a matching partner. We will announce your generous match on Westchase Neighborhood News on Facebook.
By Chris Barrett, Publisher; Cover Photos by James Broome Photography