By Lynn Gonzalez
If you like to create things, but aren't sure how or where to begin, Steven Crews has just the place for you.
He opened Tampa Loves Creating (TLC) in Westchase in late August, and he's on a mission to turn wanna-be makers into doers!
Do you want to pour your own candle? Learn how to etch glass? Stain, stencil and paint a wooden sign? Try your hand at sewing? Or master that Cricut machine that's been gathering dust in your spare room? Regardless of what you'd like to create or what level of previous experience you may have, Crews has got you covered.
I invited one of my close friends to check out TLC with me. We began our crafting journey by visiting Crews' website, tampalovescreating.com. He has several pages of different projects from which to choose. Whether you visit alone or as part of a group, you don't have to create the same item as your fellow crafters. This is a large part of what makes TLC so unique.
We both opted to make wood projects. I decided on a holiday-themed wooden porch leaner, and my friend chose to make a wooden plaque with a bottle opener attached that said, "When in doubt, drink a stout!" We picked the date of our visit and paid for our creation online.
Prices vary based upon the size and complexity of the project. The great majority of wooden projects cost between $50 and $100. Candle pouring is $50 but includes the creation of a small wooden sign.
When we arrived at TLC, Crews warmly welcomed us to his workshop, which is located on Countryway Boulevard near the Maureen B. Gauzza Public Library. He had told us that his creators' nook was BYOB, so we brought snacks and a bottle of wine to enjoy while we created. We grabbed an apron and made ourselves comfortable at one of several tables.
Crews provided each of us with an unfinished piece of pre-sanded wood that was cut to the proper size. We coated the wood with a clear coat of pre-stain to ensure that the stain went on smoothly. Next, we chose the color of stain we wanted. The actual projects displayed on the website are merely suggested color combinations, and Crews encouraged us to customize the stain and paint to suit our own taste.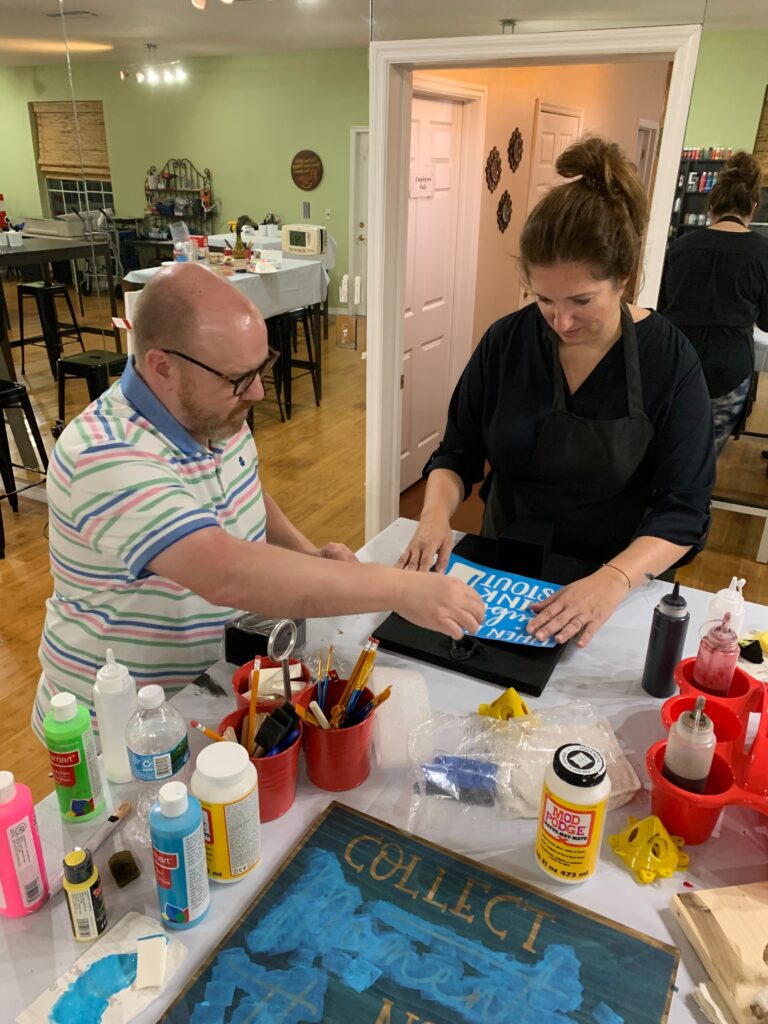 When the stain was completely dry, we carefully applied our stencils to the wood. Crews then showed us how best to apply the paint to the stencil and let us test various colors so we could see what they would look like when they dried.
We were able to apply as many coats of stain or paint as we wanted, depending upon the effect we were seeking. When the paint had dried, we carefully removed the stencils and then had the opportunity to touch up any areas that needed extra attention. Our projects were ready to go when we were!
Crews patiently walked us through the entire process and offered us tips and advice every step of the way. The entire session, including our beverage and snack breaks, lasted about three hours. The duration of your session will vary, depending upon your project and the number of people participating.
Crews discovered the joys of creating while planning his wedding five years ago. He purchased a Cricut die-cutting machine and used it to make welcome gifts and favors for his guests. He has been devoted to crafting ever since and opened TLC to share this passion with others.
The list of available projects changes regularly, and typically includes creations that are themed to upcoming holidays. He plans to offer ceramic Christmas tree and ornament decorating in advance of the winter holiday season. Most of the projects are designed for ages 12 and above, but Crews is working to create a section of projects geared toward children ages 5 to 11.
As his business grows, he hopes that it will become increasingly community-based, and he welcomes collaborators. Crews encourages fellow crafters to reach out to him with any ideas they may have.
Crews also hosts birthday parties, corporate events, baby showers and other special events. Would-be creators can reach out to him with project ideas, and he'll accommodate any requests he can. When asked what type of person would enjoy TLC, Crews didn't hesitate to answer.
"I think somebody who really just wants to come and spend time with friends," he explained. "The crafts are designed so that everybody will do a good job. It's more about togetherness and having a great time. It's just a fun place to come and hang out."
TLC is currently open throughout the day on Wednesdays, Thursdays, Saturdays and Sundays, and on Friday evenings. To get a 10 percent discount off of your first class, visit the website and sign up for TLC's newsletter. You can message Crews through the website or call him at 813-205-3090.