Most of the Jan. 4 meeting of the Westchase CDD had supervisors debating the approval of a new agreement with the USDA to resolve a vulture problem in a portion of The Bridges.
Attending the meeting were Westchase Community Association (WCA) Director Eric Holt, chair of the WCA's Government Affairs Committee (GAC) as well as Westchase Voting Members Rick Goldstein of Woodbridge and Judy Oliveri of Stonebridge. Also attending was USDA representative Cailey Thomas, Acting Southwest District Supervisor for the agency.
Introducing Thomas, CDD Chair Matt Lewis stated that supervisors held off approving further action against the vultures in December until more information about the USDA's proposed solution – fireworks and shooting the vultures, a federally protected migratory species – could be obtained. When Lewis asked Thomas for a rundown of her recent visit to a roosting site on an island on a large lake bordered by Stonebridge and Sturbridge, she responded, "We were seeing a lot of birds on roofs. And in a lot of conservation areas." She added, "We were definitely seeing damage, a lot of feathers and a lot of feces on roofs."
While Goldstein had previously insisted, citing previous USDA Representative JC Griffin, that the Linebaugh Waste Transfer Station was not playing a role in attracting the vultures, dozens of which can be seen regularly perching on the building and soaring above it, Thomas acknowledged its role in contributing to the problem. "Unfortunately with the weigh station not being very far…we're seeing this situation," she stated. Thomas also acknowledged the birds are seasonal, with the winter bringing an influx from the north.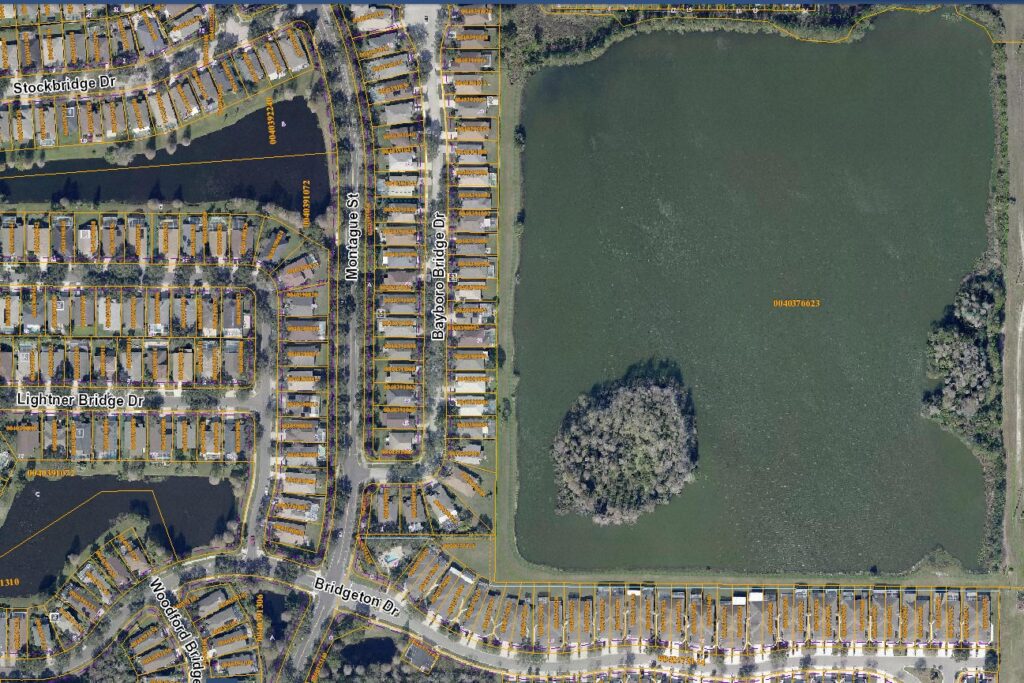 In May 2021, the district authorized a $2,500 USDA contract that permitted the hanging of vulture effigies from the trees on the island after Griffin told supervisors the dead birds would cause 90 percent of the vultures to abandon the roost within two weeks.
Thomas, however, stated that effigies were just a band-aid that did not represent a good use of the district's or USDA staff's time. "That's the kind of unfortunate part with effigies," she said.
Supervisor Forrest Baumhover, however, stated he had been left with the impression that effigies were at least 95 percent effective – an assertion Supervisor Brian Ross later echoed – which was why the district elected to use them rather than deal with the potential homeowner reaction to pyrotechnics and safety issues surrounding gunfire so close to Westchase homes. Baumhover asked her how the latter two solutions would work.
"Lethal [measures] we try to use as least as possible. It's highest risk," said Thomas, who added she was not ruling it out, but emphasized the training her staff had and precautions they take. "This is what we do every day," she said.
Thomas stated that pyrotechnics—loud explosions that scare the birds—would be initially relied upon to break up the roost at dusk and in the morning at sunrise over two weeks. "I would like to do something really aggressive for two weeks," she said. "We've got to flip the script." She added, "They're partying like rock stars."
Of the use of pyrotechnics, Thomas stated, "The bad thing about noise disturbance is they also harass people as well as the birds."
When CDD Supervisor Baumhover asked what more the district could do, specifically asking if they might consider addressing the dump's attraction of the birds by addressing it with the county, Thomas advised them to simply continue harassment of the birds. She acknowledged they would have no control over where the birds pick as their next roosting site, although Goldstein and Holt added that the WCA had budgeted funds for continued vulture removal if they moved onto WCA property.
Yet Thomas added of the island, "You have vulture paradise. I'm not saying it won't be reoccurring."
When Supervisor Lewis pressed Thomas whether she was proposing killing vultures in addition to scaring them with pyrotechnics, Thomas responded, "I'd like it to include lethal. I'd like to make an impact." She stated that vultures that remained behind after the explosions would be shot as they would simply attract other roosting vultures.
When asked how many vultures she would shoot, Thomas responded, "It's as needed. If I shoot one and his friend doesn't move, he's going to get shot too."
Citing the board's shared confusion about Griffin's past representation of the success of effigies, Supervisor Ross stated he preferred to avoid future confusion by having a written plan and cost provided to the board for consideration in February.
Agreeing, Thomas offered a caveat. "Wildlife don't read," she said.
The suggestion that a new agreement would be pushed later when vultures might depart for the north didn't sit well with Goldstein. "When is most effective time?" he pressed. "We need something done now."
When Thomas stated that action now while the vultures are present would be most effective, Oliveri also pressed the matter, encouraging supervisors to approve a plan at the meeting. "My roof is very affected," she said, adding that if they waited until February, nothing would get done in the spring given the birds' migration.
When Ross again underscored he wanted a written plan before the vote, Goldstein again called for immediate action. "We have people who have damage," he stated, adding that some residents have had to make repeated repairs. Goldstein added that if the district was going to delay the matter over language and money, the district ought reimburse homeowners for damage incurred.
Goldstein added he had to assist a middle schooler through a flock of vultures. "We have them congregating in the streets," he stated. "Because of bird droppings, I 'm concerned about people on chemotherapy," he added, "And people who are immune-compromised." Stating he had a neighbor who recently had a stem cell transplant, Goldstein said, "She's almost a prisoner in her home."
Citing the previous information about effigy effectiveness, Supervisor Lewis stated, "I would like to see this plan, to see what it would cost." While acknowledging he was closer to accepting the lethal removal of birds, he added, "But for me personally, there's a lot there. It just seems like a really strong measure."
Supervisor Jim Wimsatt said, "I'm in the same boat. I'm not going to vote to approve a plan I have not seen." He added, "There is nothing specific, so I don't know what I'd even vote on."
"I'm kind of torn," stated Supervisor Baumhover, suggesting a motion that would allow Lewis and CDD Attorney Erin McCormick to negotiate a final plan outside the meeting to permit quicker action.
Lewis then added, "I'll make a motion to allow the pyrotechnics for the two week period," he said, "Not to exceed $5,000."
Supervisor Greg Chesney seconded the motion but suggested supervisors use the bare-bones of the previously approved plan, which McCormick stated wouldn't work as it only allowed effigies.
When Lewis inquired if the motion simply for pyrotechnics would help until the formal plan is adopted in February, Thomas stated that it would but remaining birds would simply attract new ones. This caused Holt to wonder if the temporary solution wasn't wasting money by not just incorporating lethal means. Supervisor Ross meanwhile expressed concern about homeowners adjacent to the lake being affected by the explosions.
After discussions about notifying nearby homeowners, Supervisor Baumhover stated he felt like the lethal removal of the birds was a key part of ensuring success and asked if there was anything that might make Lewis reconsider its exclusion.
Thomas offered that more homeowners usually call in complaints about the fireworks than they do about gunshots.
Oliveri then observed, "Anything lethal, I don't think that will bother anyone."
"Unless they miss," stated Supervisor Lewis, who added the board was simply doing its due diligence.
"Everyone who borders that [lake], I don't think they would be bothered at all," insisted Oliveri.
When Lewis inquired about what guns Thomas would use, she stated it would be a shotgun with birdshot or a low-caliber rifle, which seemed to reassure him about the measure's safety.
When Lewis amended the motion to leave the matter to the discretion of the USDA, Supervisor Ross inquired whether he intended that to include lethal means. When Lewis answered yes, Ross stated he would oppose the motion until the vendor could be properly vetted and homeowners properly notified. "I think it's reckless to go forward and I'm going to oppose it."
The motion approving $5,000 for two weeks of vulture removal using pyrotechnics and lethal means ultimately passed 4-1, with Ross opposed. Based on rough timelines suggested by Thomas and the CDD's attorney, the plan could be implemented starting the third week of January.
CDD Engineer Robert Dvorak then briefed supervisors on his recent work, including surveys identifying wetlands to permit a cell tower behind the Maureen Gauzza Library. Supervisors ultimately approved making their cell-tower contractor, Vertex, who is leasing the district's land for the tower, agent of record in seeking county approval.
McCormick then announced she had good news related to a second cell tower, proposed for the back of the southern parking lot at Glencliff Park. In recent months, county staff have held up placing the tower on the Hillsborough Board of County Commissioners' (BOCC) meeting agenda while citing opposition by some homeowners in Woodbay. "That is major progress," said McCormick of the county staff's decision to put it before the BOCC for a vote. "I think the letters submitted by the residents [in support of the tower] had a significant impact on that."
McCormick stated it would likely appear on the BOCC agenda sometime in January but she needed to clarify the date. Supervisors unanimously passed a motion authorizing Lewis to attend the meeting and speak in support of the tower's approval.
In other actions:
Supervisors approved an additional fee of $1,018 for the Florida Association of Special Districts after that entity billed them incorrectly.
Supervisors approved a bid for $17,760 from A&B Aquatics for cleaning out a large pond on Linebaugh Avenue near the medical center and another in The Fords.
Field Manager Doug Mays stated he obtained a bid for the repair of all sidewalks in Chelmsford as a way of estimating the district's costs if they took over sidewalk repairs from the county in non-gated Westchase. He stated the amount for just Chelmsford repairs totaled $47,000.
Field Manager Mays reported that the slide at Glencliff Park, possibly broken by a skateboarder, was ordered and staff was awaiting the part's arrival.
Briefly discussing Westchase's 30th anniversary, supervisors stated they would wait for the WCA to take the lead and then offer support for any planned community celebration.
Supervisors adjourned at 5:56 p.m.
By Chris Barrett, Publisher