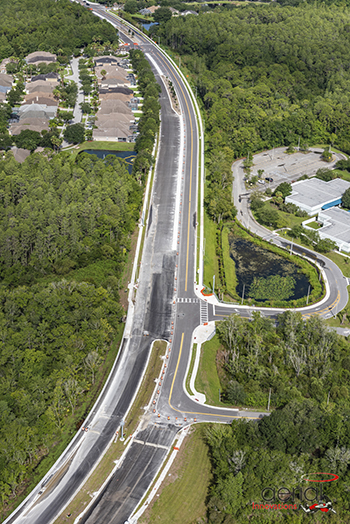 The Citrus Park Drive extension, once completed, will represent a new east-west thoroughfare between Countryway Boulevard just north of the Maureen Gauzza Library and Sheldon Road at its intersection of Gunn Highway (that portion that runs in front of the Citrus Park mall).
With some folks thinking the Citrus Park Drive extension is nearing completion, we reached out to Hillsborough County to check on its status and projected completion date. Chris Wilkerson, Senior Media Relations Strategist with Hillsborough County's Communications and Digital Media, provided helpful answers to WOW's questions.
Many residents have mentioned conflicting completion times in recent months. One reason may be that the county plans to open portions of the road affecting Deer Park Elementary and the neighborhood of Fawn Ridge earlier than the rest of the road. Details appear below.
When is the Citrus Park Drive Extension expected to be finished?
Wilkerson: The completion target is the end of October 2021.
It appears paving is well under way. How much has been paved and how much is there to go?
Wilkerson: Paving is approximately 50 percent compete. Almost all of the structural asphalt has been placed. The friction layers have yet to be added but work on that is starting the week of July 19. Some milling and resurfacing work will be completed on Countryway Boulevard and Sheldon Road to ensure the new roadway surface blends with the existing roadways. Some of this work will need to occur at night due to daytime traffic volumes and the schedule may be impacted by weather.
What else is being done right now and what is there left to do (i.e. striping, landscaping, signage, etc.)?
Wilkerson: There was extensive landscape work and wetland mitigation required for this project. That work is ongoing. Other items include:
Traffic signal work is ongoing with new intersections at Fawn Ridge Blvd. (which will be a three-way intersection) and Deer Park Elementary School. The existing intersection at Countryway Boulevard and Sheldon Road is receiving new signals and turn lanes.
The medians on Countryway Boulevard are being completed.
Project clean up and sodding are continuous.
The biggest change will be the opening of Citrus Park Drive between Fawn Ridge and Sheldon Road. This is expected to occur near the end of July. All traffic from the Fawn Ridge community will use this new section while the Key West neighborhood will use the old Fawn Ridge/Sheldon intersection. The traffic light at this intersection will be removed, the left turn lane will be closed and no northbound turning will be allowed for safety reasons. This section of Fawn Ridge Boulevard will be renamed Florida Keys Way and be made into a cul-de-sac.
Deer Park Elementary will have a new traffic signal and a new traffic circulation pattern.
The new section of Citrus Park Drive from Countryway Boulevard to Deer Park Elementary is expected to be fully opened before school starts on August 10.
Tampa Electric is in the process of installing new streetlights between Deer Park Elementary and Sheldon Road.
WOW thanks Chris Wilkerson for helping to keep the community informed.
By Chris Barrett, Publisher