Nothing is more relaxing than sitting on the sand or in your pool lounge chair and getting lost in a great book. If you're getting ready for some summer relaxation, we have five can't miss books to keep you company.
Hail Mary
Andy Weir's latest book, his second after his blockbuster The Martian, returns to a story arc that triggered his initial success: one man, armed with little more than his own ingenuity, works feverishly to ensure his own survival in space. Science teacher turned astronaut Ryland Grace emerges from a coma in the Hail Mary to discover his crewmates dead. Stricken with no memories, Grace slowly works to piece together the truth. He's in orbit in a completely different solar system light years from earth. Only this time, Weir tosses his readers a surprising twist. Grace not only has to work to keep himself alive. He learns the fate of the survival of Planet Earth also rests on his shoulders. Weir, however, throws readers a surprising plot twist. While Weir is a near god with science nerds and sci-fi geeks, his accessible novel will appeal to even those who generally steer clear of science fiction.
Where the Crawdads Sing
While not a new release, it staying power on best seller lists of Dalia Owens's novel is excuse enough to include it on this summer's list for those who may have somehow missed it. A coming-of-age story combined with a murder mystery combined with an uplifting love story, Dalia Owens' best seller delivers unforgettable characters. Kya Clark, the Marsh Girl of Barkley Cove, North Carolina, is a survivor. Abandoned by those she loves, she learns self-reliance on the coastline. But when popular local Chase Andrews turns up dead, suspicion turns on Kya, with whom Chase had a secret relationship. Kya's only friend is Tate Walker, who teacher her to read and write. But when Tate goes away to college, it looks like Kya has once again been abandoned. Or was she? Owens' delicious depictions of the North Carolina coastline and the eccentric Kya will leave your rooting for her and keep you guessing about the ending.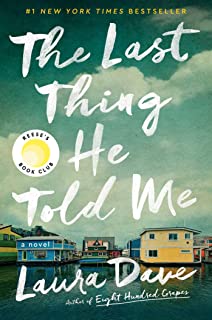 The Last Thing He Told Me
A gripping mystery by Laura Dave, The Last Thing He Told Me reveals the story of Hannah Hall. Hannah is living with the love of her life, Owen, before he mysteriously disappears. Owen's smuggled note to her right before he vanishes says, "Protect her," referring to his 16-year-old daughter Bailey. Yet Bailey, who tragically lost her mother as a child, wants nothing to do with her stepmother. As Owen's boss is arrested by the FBI and Hannah's calls to Owen go unanswered, Hannah realizes that Owen was not the man she thought — and Bailey holds the key to the truth. A page turner, Dave's novel offers crazy plot twists, an evocative exploration of her growing relationship with Bailey and a shocking ending.
The Midnight Library
Who doesn't have regrets? Thirty-something Nora Seed has a book filled with them in Matt Haig's novel. Profoundly unhappy, Seed finds herself standing in The Midnight Library, filled with an infinite number of books that offer the alternative lives Nora would have led if she had made every decision in her life differently. Nora gets to experience missed lives that include marrying a jilted fiancé, becoming an Olympic swimmer, fulfilling her childhood dream of a career in glaciology, and singing before a packed stadium as a rock star. Each life, represented by a different book in the library, has unanticipated consequences. Each life also shoots unexpected complexities into her relationships with those she loves. Nora must choose which of her lives she will ultimately make her own – before the unknown time she has left tragically runs out. Ultimately, Haig's touching and compelling tale will leave you with the feel goods while forcing you to rethink your own personal Book of Regrets.
People We Meet on Vacation
What better vacation topic for a book is there than a story about ten vacations? This funny novel by Emily Henry, the author of Beach Read, is about Alex and Poppy. The two couldn't be more different. And during the year, she lives in New York City. Meanwhile, he lives in their small hometown. Brought together by a college rideshare years ago, they reunite each summer for a weeklong vacation. Well, at least until two years ago when they ruined everything and haven't talked since. Poppy, however, is stuck in a rut and she recognizes those moments in her life she was most happy. After miraculously convincing Alex to try one more vacation together, she has a week to make it work. There's just one big truth that stands in the way. Filled with quick, witty banter, Henry's warm novel offers a steamy romance that will have you feeling all the feels.
By Chris Barrett, Publisher