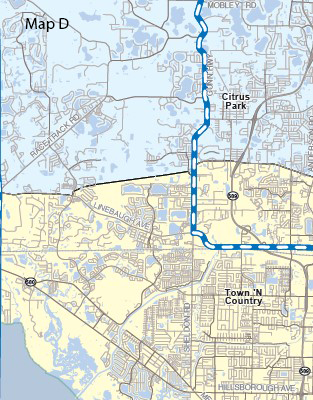 After every census, state and local politicians adjust political boundaries for seats to account for population shifts and the current round promises to affect our Northwest Hillsborough County area.
The Hillsborough Board of County Commissioners this week began discussions about redrawing political boundaries for Hillsborough commission districts that are not county-wide. They narrowed their preferences down to three, Maps D, E and F.
Every home in Hillsborough County is represented by three county commissioners. Two of the three commissioners hold county-wide seats representing the entire county. The third district representing homeowners is a geographically smaller area whose boundaries can change after the decennial census.
Currently Westchase and most neighborhoods to our immediate north (just north of The Shires and inclusive of neighborhoods off Race Track Road) are in District 1, represented by Commissioner Harry Cohen, a Democrat. That district is one of the most sprawling ones, encompassing Keystone, Westchase, Town n Country and South Tampa before leaping the bay to include the southernmost parts of southeast Hillsborough.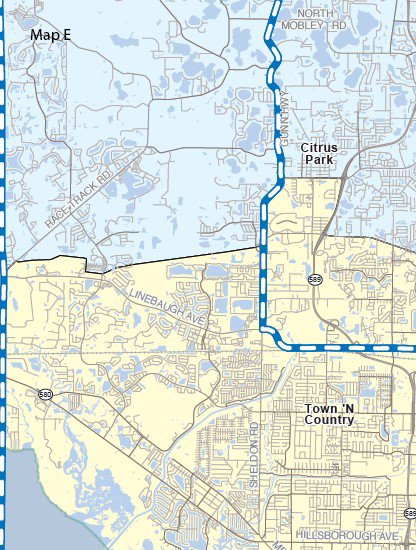 Under 2 (Maps D and E) of the 3 maps currently under discussion, original Westchase (the Westchase Community Association) would remain in District 1. Under Map F, however, original Westchase would be moved to District 2, encompassing Citrus Park, Lake Magdalene, Lutz, New Tampa, Temple Terrace, Thonotosassa, Seffner and Mango. District 2 is currently represented by Commissioner Ken Hagan, a Republican.
All three maps would remove the neighborhoods to Westchase's immediate north, including Lexington Park apartments, Mandolin, Windsor Place, West Hampton, Highland Park, Waterchase and adjacent subdivisions from District 1 and place them in District 2.
Aston Gardens comes in for different treatment, however. Proposed Map E would keep Aston Gardens in District 1 while the other two options would shift it to District 2.
In the maps here, the current district boundary is represented by the dotted line. Proposed District 1 is colored in yellow and proposed District 2 is colored in blue.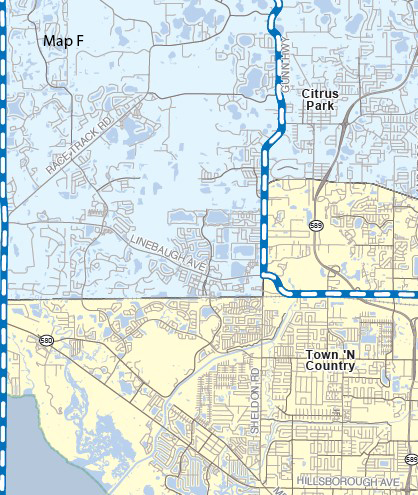 The maps will be further discussed, refined and perhaps finalized at what the county is describing as engagement meetings the week of Sept. 20. Residents interested in weighing in on the process can find the BOCC's contact information here: https://www.hillsboroughcounty.org/en/government/board-of-county-commissioners .
By Chris Barrett, Publisher