by Denise Scott
It was supposed to be us.
For five days, the weather forecasts warned of the spinning monster in the Gulf, heading right for Tampa Bay. As Hurricane Ian inched closer and gained strength, some of us bought supplies and dusted off hurricane shutters. Some of us left when evacuations were announced. Others chose to stay.
The Ely family of The Fords in Westchase did a bit of both. While mom Shawni and 24-year-old daughter Samantha scooped up the grandparents from Oldsmar and headed to a relative's house in Orlando, son Jesse, 28, stayed with his fiancée's family in Tampa. Seventeen-year-old Shane stayed with dad Pat, who wasn't worried about the storm.
On the Friday before the hurricane, Shane began offering to help locals prep for the storm through the Westchase Neighborhood News Facebook group. He and friends Nathan and Blake Rosso filled more than 150 sandbags, delivering them to homes in Westchase and Palm Harbor as Ian approached.
Then, just like with Charley in 2004 and Irma in 2017 – it wobbled. Westchase and our neighboring communities were again spared a direct blow from a major hurricane.
Instead, Ian made landfall just a few mph shy of Cat 5 strength along the barrier islands of Lee County. Winds raged for half a day on Sept. 28 as a furious wall of water wiped away entire buildings and flooded homes miles inland. Its impact was felt throughout much of the state, leaving millions without power and causing rivers to spill over for days, becoming the deadliest Florida hurricane since 1935.
Run From the Water
Cara McConnell, 50, is a real estate agent who moved into her apartment on Fort Myers Beach just three months earlier. She evacuated the day before the storm to take shelter with fellow islander and high school English teacher Patrick Romcoe in a friend's second home several miles inland. But they still weren't spared the terror of the rising flood.
Many islanders hadn't trusted Ian's forecast, McConnell said, because warnings for past years' hurricane dangers were exaggerated. "We thought, 'Is this fake news? Do we evacuate or not?' That's why a lot of people on the island didn't leave. Who are we to trust anymore?"
But on the day before the hurricane, when reports of impending storm surge became more dire, the mood shifted. McConnell spent 2 1/2 hours packing sandbags and lugging them to the cars of elderly island residents to help them shore up their homes and evacuate. After the second evacuation notice, she and her Yorkie, Dollie May, got in the line of traffic snaking over the bridge before nightfall.
The home she and Romcoe fled to, north of Estero Bay, was still in Evacuation Zone A. "What scared me was seeing the water rush down the streets that far inland," McConnell said of that Wednesday landfall. "It was like a movie, like 'Jumanji.' The water was whitecapping between the units. I could hear the tiles tumbling on the roof. It sounded likes horses running. I've never been that terrified in my life."
Through clear storm shutters, they watched the water surge. When it got up to the base of the window, they climbed a ladder into the attic with a chainsaw in case they would need to cut their way out. "We just prayed," she said. The roof held strong, and although the floodwater swallowed up most of her car, it eventually stopped rising.
Hide From the Wind
About 50 miles north, over the Peace River into Port Charlotte, Melissa McCormack, who turned 41 the day of the hurricane, was planning to ride out the storm with her 9-year-old daughter Madison, 3 1/2-year-old son Matthew and two dogs. "A friend came, originally just to spend the night. We've got two ASD [autistic spectrum disorder] kids."
But Wednesday morning, when the storm was pushing toward a Cat 5 and now expected to come up Charlotte Harbor toward her wood-framed house, they all packed up and took shelter in a nearby elementary school. "It was to capacity," McCormack said. "Everybody had enough room, but it was little, like 10 by 3 [feet] taped on the floor – that was your spot. The gymnasium looked like an airport layover lobby."
McCormack praised the school's principal and vice principal for handing out sandwiches and smiles while the storm raged around them for hours, pushing water through the gym's ceiling as generator power kicked on. "When it hit the 7 to 8 o'clock hour, it got scary," she said. "The wind started picking up. Your ears popped. You heard choo choo trains and there were walls of white for 20 to 30 minutes. The buildings were shaking. Everything was howling. We both had our 3-year-olds attached to us."
Early the next morning, after crews assessed the damage outside, they were released from the shelter. McCormack saw fences and trees down, damaged roofs. "It looked like somebody put a bomb off in the middle of my street. We think it had to be a tornado."
Most things inside McCormack's house were saturated. She has moved the few salvageable items to a storage unit. She doesn't think it's safe to return since the roof had lifted and metal support posts near her front door were bent. Black mold has since set in. She registered for FEMA the day of the storm but didn't know when she would receive housing assistance.
She set up a blue and yellow tent in her front yard to serve as a temporary home for her family, planning to stay as long as possible. "We're in that [tent] almost by choice," she said, a few days after the storm. "I have two dogs and two kids. One of my kids is extremely energetic and wild. I want to keep my friendships. At the end of the day, you can have a bad day, but you can have a good day having it. We've got the best front yard setup on the block. Tomorrow, we're on a mission for ice cream."
Helping the Survivors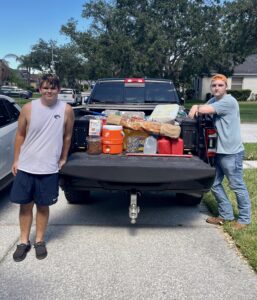 The morning after the storm, when Shane Ely saw reports of the devastation in Southwest Florida, he knew he had to do something. He was one of the first in Tampa Bay to jump into action. "There were people down there who needed help, and I had the ability to help. So why wouldn't I?" he said. "I knew our community would be a huge help. People went on shopping trips to get supplies to help me."
Westchase residents filled the back of Shane's old red pickup truck outside of the local Publix for his first trip down that same day. To appease his worried mother, he borrowed his father's new pickup for his solo drive. When Shane arrived in Fort Myers, he stumbled upon a nursing home that had not yet received any help and gave them the food and water he had collected.
But Westchase residents continued to offer donations after Shane left, so the drop-off location shifted to the Ely family home. "They called me a good person, but I couldn't have done it without the community," Shane said. "They are the ones who've done the most."
He scheduled a return trip for the very next day with friend Jack Castle. This time they borrowed Jack's father's truck. "The second time was hardest. It took about six hours," Shane said. "They shut down [Interstate] 75 after I came back the first time, so we had to take detours on country roads. It wasn't scary. It could have been seen as dangerous; I understand that. But we were in a pretty high truck. We had to backtrack a lot. When bridges are gone, there isn't anything you can do."
Possessions Washed Away
While huge sections of the bridges to Sanibel and Pine Island had crumbled, Romcoe and McConnell were able to catch rides to the end of the bridge leading to Fort Myers Beach. The miles-long trek on foot to the south end of the island was treacherous the first day as the streets were covered in a few feet of sand. "All kinds of stuff was in it," Romcoe said. "Pieces of cars, toilet bowls in the streets. I
fell three or four times on the way back."
His home was still standing but destroyed by the flood. The water rose to the beams in McConnell's ceiling as well. "My fridge was upside down, my couch was gone," Romcoe said. "I was just numb."
The second day, he returned with McConnell. They headed out with bicycles and what other few possessions they could recover, knowing they were still among the lucky. A growing list of their neighbors had lost their lives. "There were several times I had to get off the bike and go over power lines," Romcoe said. "It was almost apocalyptic. People were walking around crying."
Stopping at Times Square before leaving the island, they searched the rubble that once was the home of friends who had evacuated up north. They found a handful of small things. Wedding goblets. A tie. A wooden cross separated from a statue of Jesus, resting in the sand nearby. "It's a war zone," McConnell said. "That's the only way to describe it."
Romcoe, who is running for Fort Myers Beach Town Council, said many of the island's residents whose homes are still standing have chosen to stay. They are surviving on generator power for now. "They're pitching in and helping each other with their houses," he said. "Who's to say they can't live there? Get them water. Get them electricity. That's what they're doing for every town that's got problems."
McConnell doesn't think she will be able to return to the island. She has found temporary shelter at a friend's undamaged south Fort Myers home. She spent countless hours struggling to register for FEMA and learning from her auto insurance that her car isn't covered for flood. She said many islanders didn't have flood insurance. "I hope that people don't forget," she said. "My faith in God and humanity is the only thing I have left."
Regional Impacts
Tampa Bay residents may have heard Gina Birch on the MJ Morning Show on Q105 after the hurricane. The Fort Myers DJ, from Sunny 106.3 FM, made the rounds on stations around the country to promote Beasley Media Group's Red Cross fundraiser.
"This place will never be the same. When I start to think about it, I start crying," said Birch, a longtime Southwest Florida resident. "There's going to be a lot of people from this area coming to Tampa for help. There's nothing here. They're already priced out, and half of it's destroyed. The hospitality industry is crippled. They're going to be going to the Tampa Bay area looking for work, housing. Please take care of our people up there and when it's safe, return them to us."
And, Birch said, find a reason to visit Southwest Florida. "Once we start opening businesses again, we need support," she said. "Think of your favorite place you have in Clearwater or St. Pete – and just imagine it gone. That low-ceiling, dollar bills hanging from the walls, beach vibe. It's never going to be there again. When we get to rebuild, nothing ever will be the same."
Romcoe said it's going to be a long process, and although he fears a shortage of trades to do the work, he is hopeful. "Do I think it's going to be thriving one day? Absolutely, I think so," he said. "Is it going to take two years? I think so. People will see the value and build it bigger and stronger."
Preparation Saves Lives
McCormack, speaking from her tent over the noise of generators and helicopters, said it's easy to become more complacent after each forecasted hurricane that decides to take aim elsewhere.
"With Irma, there was a lot of hoopla and no bang. You can't shut down every time a storm is coming," she said. "The joke is to move to Montana, but there's a disaster everywhere you go. We have to be more prepared. When I get out of this and I have a pantry again, I'm going to have an apocalypse station. I will never not be prepared again."
The mantra from hurricane forecasters is to hide from the wind, run from the water. Do you know your evacuation zone? Your home's elevation? Was it built before the 2002 creation of Florida's statewide building code?
Do you have a plan in case the next one doesn't wobble?
It was supposed to be us.
How to Help in the Wake of Hurricane Ian
For residents of the hardest-hit areas in Southwest Florida, the road to recovery will be long. Click here to learn how you can help.