The reunification of Germany, the dissolution of the Soviet Union and the launch of the Hubble Space Telescope are just a few of the notable events that occurred in 1990.
But to legions of Tim Burton and Johnny Depp fans, something even more important happened: "Edward Scissorhands" (the first collaboration between the prolific director and world-famous actor) was released in December of that year.
The film, about a young "man" with scissor blades instead of hands who falls in love with a teenage girl, was positively received by critics and audiences alike, and grossed more than $86,000,000 worldwide. Throughout the years, "Edward Scissorhands" has maintained a cult-like following, inspiring comic books, a ballet adaptation and even a Cadillac commercial.
The majority of the movie was filmed in the spring and summer of 1990 in a little-known town in Florida called Lutz. In 2020, a man by the name of Joey Licalzi purchased the house where Edward lived with his adopted family in the world of the film. He has made it his personal mission to turn what he lovingly refers to as "Our Scissorland" into a mecca for fans of all things related to the movie.
Licalzi's love affair with "Edward Scissorhands" began in 1990, when he worked as a dishwasher on the set of the film. Fast forward thirty years, Licalzi and his wife had made several unsuccessful offers on homes in the Carpenter's Run subdivision where the movie was filmed.
When Edward's actual house on Tinsmith Circle came onto the market, Licalzi's luck miraculously turned, and their offer on the home was accepted. He paid $230,000 for the 1,400-square-foot, three-bedroom home, and he and his family moved into it in September of 2020. The previous owner had treated the house, which was built in 1987, as if it were an average home in an average neighborhood. Licalzi, however, had a unique vision, and would soon discover that others shared his dream.
Before they had even finished moving in, Licalzi said that "Edward Scissorhands" fans came out of the woodwork to donate items to Our Scissorland, some of which he estimates are worth thousands of dollars. Two copies of the actual movie script, which was written by Caroline Thompson, are on display in a glass case, alongside an "Edward Scissorhands" card signed and dated by Burton and members of the cast and crew.
Numerous portraits and figurines of Edward adorn the brightly painted walls, alongside a white artificial tree that has a plethora of eclectic ornaments hanging from its shiny branches. An original call sheet featuring Depp's name, alongside that of co-stars Winona Ryder and Dianne Wiest, is framed and hangs prominently on a wall adjacent to the front door. There is a photo of the film's entire cast and crew across the room from an elaborate 3-D popup cardboard display that would have been used to promote the film in a movie theatre.
A sample of the actual mushroom wallpaper that decorated the kitchen walls during film production hangs on the pantry door, and small rolls of linoleum that lined the floors of the set are displayed in the living room. Licalzi also purchased a vintage yellow telephone, canisters, a pot and a fruit bowl to lovingly reproduce the set design in one corner of the kitchen.
Over the past two years, Our Scissorland has become what Licalzi refers to as a "shrine" that honors Burton, Depp, the entire cast and crew and the legacy that "Edward Scissorhands" has created. Maintaining the unique exterior landscaping and large collection of movie memorabilia and fan art has become a full-time job, he said.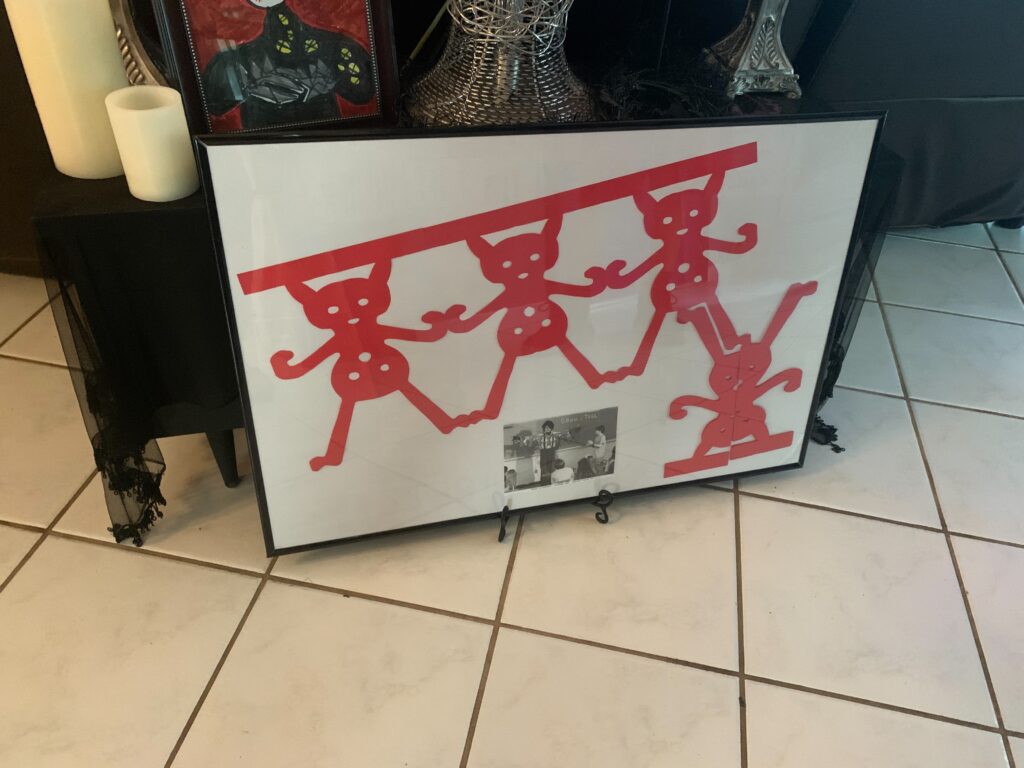 "You're doing social media. You're the CEO of landscaping," he explained. "It's like running an actual theme park."
As much as he loves overseeing Our Scissorland, he and his wife made the difficult decision to put the house on the market four months ago. Licalzi plans to return to his job building drum kits. All of the donated memorabilia and artwork will convey with the house to whomever purchases it.
"I would never take anything. It's not mine. It belongs to the people," said Licalzi. "This was not my forever home. When people come here, it makes them happy. People say I saved their childhood. I want to transfer that experience to a new owner."
Licalzi said he's surprised that no one has purchased the home yet. He's had some low offers, but none that take into account the inherent value of Our Scissorland as a destination. If he had the financial resources, he would open an "Edward Scissorhands"themed café in Lutz, and open the house more regularly to visitors.
There's a company that's been buying homes in Carpenter's Run and flipping them, according to Licalzi. He would hate to see that happen to Edward's home, and is committed to finding a buyer who values the film and its legacy as much as he does.
Our Scissorland is currently open to visitors by appointment only. Fans may reach out to Licalzi by searching for "Our Scissorland" on Instagram and TikTok.
By Lynn Gonzalez