There were no covered wagons or log cabins, but the folks who bought the earliest homes in Westchase were pioneers nonetheless.
In November 1991 Don and Susan Nikolas bought the first house in the Westchase Community Association, 9803 Bennington Dr. in Bennington, a village carved out of land scraped clean by bulldozers and sitting at what amounted to a dead-end. Shopping and restaurants lay miles away. Linebaugh Avenue didn't even connect to Sheldon Road, which was a two-lane rural road. Veterans Expressway didn't exist. The community was so new, the post office wouldn't even deliver mail to their home.
Little else besides the Westchase Welcome Center on Radcliffe Drive was nearby. The Countryway community, just south of Westchase along Countryway Boulevard, had broken ground and to reach the earliest Westchase homes, folks had to enter the Countryway entrance on Hillsborough Avenue and drive north.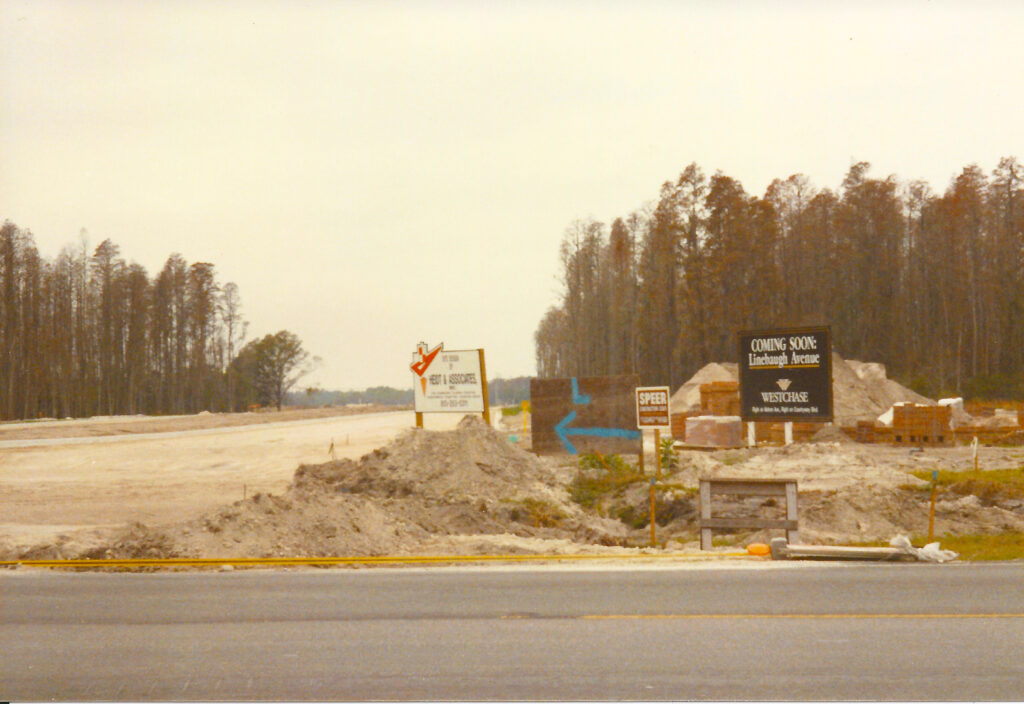 To the northeast, Fawn Ridge was taking shape, but the Citrus Park mall and its nearby plaza were undeveloped land.
As for Highland Park, Waterchase, West Hampton, the neighborhoods of Westchester and Mandolin?
It would be nearly another decade before they broke ground.
In those first couple of years, the earliest homes in the Westchase Community Association started slowly rising in Woodbay and Bennington, followed by some sales in Radcliffe and The Shires.
All of the very early Westchasers had one thing in common. They rolled the dice on the developer's promise of a future Westchase community.
And while the Nikolases sold their Bennington home in December of 1999, a number of other Westchase residents who moved in just after them still call Westchase home—30 years later.
Steve and Melanie Grove
When Steve and Melanie Grove purchased their Woodbay home in July of 1992, they purchased the fifth Westchase home built.
Other than the golf course and the beginnings of Glencliff Park, there was not much to go on, but the Groves trusted the developer's plans. "The brick walls were built up Countryway Boulevard and in the neighborhoods of Bennington, Woodbay and Radcliffe. All the roads and sewers were in. And they had planted street trees," Steve recalled. "You came in and you knew someone was putting money into it."
But there was a risk being the first buyers in a massive community. "I had a German-Irish grandmother who always had strong opinions," he said with a laugh. "She said we were making a big mistake."
For the Groves, however, while Tampa Palms and Hunters Green were successful developments, those options were just too far away. Plus, this new, closer development had appeal. "We were attracted to Westchase because of the street trees and the gas lamp posts in front of the houses. We thought that gave the houses a great character. Melanie is from Winter Park and those streets were lined with oaks, oak-canopied streets. That was different from other communities," recalled Steve. "Yes, it was a risk, but you could just tell it was going to be nice."
"We paid $128,000," Steve recalled of their Westchase home. The Groves' new home was built by Inland. Only married a year at the time, they eventually raised their two daughters in Woodbay, Sarah, now 28, and Elise, 25. "This is the only house we've ever owned," he added.
For shopping, the couple had to travel to a Publix on Hillsborough (the site of PK's Play Zone), but that store closed after a few years. As for dinner out? "You had to go to Carrollwood," he recalled. "Oldsmar wasn't very big back then."
But doing so meant a drive down Countryway before heading east on Hillsborough and driving north again. Linebaugh Avenue was not yet constructed through Westchase. "It only went east as far as the Welcome Center," Steve recalled, referring to the building on Radcliffe Drive just outside the Golf Course that held a scale model of the Westchase development and offered local Realtors information.
Linebaugh Avenue through Westchase opened a bit later in July 1992, providing another entrance and exit to Sheldon Road. But the rest of Linebaugh, which began on current Old Linebaugh south of Costco, was a two-lane rural road that meandered east until it hit Dale Mabry.
"There were so few people on it when [Linebaugh] did open that people just roller-bladed down the road," Steve said with a laugh.
Steve recalled that they were very excited when the Westchase Swim and Tennis Center on Countryway Boulevard finally opened. "That wasn't built the first few years we were here. Our house didn't come with a pool so we were excited to get the Swim and Tennis Center."
Interestingly, Grove felt the fact that every Westchase homeowner was starting from scratch made a significant difference. "The uniqueness was everybody was new," he said. "Because we were new, we had something in common." He recalled how neighbors gathered for Halloween parties and put out luminaries in Woodbay on Christmas Eve. "We had a lot of social contact because we had the newness in common."
After Melanie and Steve volunteered for early resident committees, Steve eventually served for 12 years on the Westchase Community Development District, helping to shape the community they had invested in. The community became everything the Groves hoped for. "It's well maintained. It's got people who care about the community. Great sidewalks and parks. It's a very livable community," he said.
Most important?
"We still have great neighbors," Steve said.
Now with their daughter Sarah married and living just north of Atlanta and Elise calling Asheville home, the Groves are enjoying a new chapter in their Westchase lives. "We're back to the two of us, just like we started here."
Wes and Gail Floyd
Two other Westchase pioneers, Wes and Gail Floyd, bought a lot quite close to the Groves and closed on Aug. 10, 1992 "I'm very bad with dates but that is one date I remember. It was a very big deal," said Gail. "I took every penny I had to buy this house."
The price?
$140,000.
She signed a contract to purchase the home without Wes having seen the community, but she insisted the contract include a contingency that her family must approve.
Unlike the recently married Groves, the Floyds were unique in that they brought the first teens to the community. "We had four teenage boys and we were in a very little house," recalled Gail. "And we were losing our minds."
Their youngest, Seth, was 10 but he had three older brothers, Ron, Ryan and Roland. The new Westchase home promised a big yard. "We had one of the biggest lots in here," recalled Wes.
While many Westchase families had young children who were not yet in school, having teens posed some unique problems in the new community. "We thought they would be in the same school and they weren't," said Wes.
As Westchase grew, school boundaries were redrawn and new schools even opened, meaning the Floyds, once moved in, still did a lot of moving around schools and negotiating with school officials. "When we moved in, the school bus did not come down the street. It just went down Countryway," said Gail. "We had to go to the school and ask the school to have the bus come here."
Early Westchase simply wasn't yet on the map. "We worked from home and FedEx couldn't find us," said Gail.
But being in far off Westchase offered one positive. "The good news was…they couldn't get into too much trouble because there wasn't anywhere to go. Everyone knew who they belonged to. We were the only ones with teenagers."
Another benefit to Westchase's newly developed roads with few cars? Gail could teach her boys to drive in the neighborhoods. They, however, came to expect some unique road hazards on streets recently carved out of Northwest Hillsborough's woods and swamps. "We had to watch for alligators. One time an alligator walked across the road in front of the car," she said with a laugh.
With the area scraped clean and waiting for builders, the Floyds, from their Woodbay home, could clearly see out to Countryway Boulevard and down to the railroad tracks at the southern border of Westchase.
They, too, had to travel, especially for groceries. And with so many boys, there were lots of groceries. Wes recalled having to drive quite a distance to get milk on a regular basis—likely the reason he cited the opening of the Westchase Publix in February of 1998 as one of the new things that was most exciting. "The nicest thing was to have the Publix shopping center near us," he said. "When that opened, Roland worked there a short time."
Gail also recalled the developer making a significant change to their plans in the early days. "The original plan was for the swimming pool to be built near the golf course. But there was a liability issue," she said. "They thought the kids would get hit by golf balls. We were the only ones that had to sign off on [the new location] because it was close to us."
Gail ultimately served on the Advisory Committee, which worked with the developer's staff regularly at the Welcome Center as liaisons to Westchase's early residents.
Meanwhile, Wes volunteered in other ways, dressing up as Barney the Dinosaur for one early community gathering and the Easter Bunny for the first Westchase Egg Hunt, where his son Seth helped guard his father's tail from being yanked off by the younger kids.
Gail also organized the Halloween celebrations. "We had a big Halloween party up at the Swim and Tennis Center," she recalled. One gathering, in the afternoon, was aimed at the kids while an adult Halloween Party was held in the evening. "We had a lot of fun."
Like Steve Grove, the Floyds credited the early, strong community spirit to everyone being in the same, new boat.
"One of things we didn't realize or appreciate was because we were all new in neighborhood, there weren't established relationships that made you an outsider." That, she said, forged a camaraderie that actually brought folks together. "You don't often get that opportunity," observed Gail.
"It was nice to know people," Wes agreed.
Living in a development just getting off the ground, however, did cause some hiccups. According to the earliest Westchase resident newsletter, as late as a year after the Floyds moved in, Westchase's reclaimed water system still wasn't yet hooked up to Hillsborough County's pipes. Permits had to be acquired and some early residents had concerns about whether the chlorination of the treated sewage water would damage lawns.
In the interim, the developer had hooked the neighborhood's reclaimed system to a pump, which extracted water from a lake along Countryway Boulevard. The lake water, however, turned the sides of Westchase homes and cars an unexpected shade of brown. "They paid people to come out and clean the houses and cars," Gail recalled.
When asked if Westchase became everything they had hoped, Gail responded, "Absolutely. It's very nice. It's quiet. It's been wonderful." She added, "We love our neighbors and are very happy here."
"We never regretted it," said Wes.
John and Sharon Mertzlufft
"In February of '94, we moved in," Dr. John Mertzlufft recalled of the home he purchased with his wife Sharon. The couple paid $174,000 for a home with four bedrooms, three bathrooms, a three-car garage and a pool in Woodbay.
"There were cow pastures down Linebaugh," he said with a laugh. "It was very different when we first moved here."
In fact, until the development of West Park Village at the turn of the millennium, WOW ran a phone number in its reference section for residents to report cows that had wandered onto the road.
While initially home shopping, The Mertzluffts had considered alternatives. "We were looking at Safety Harbor but it was a longer commute."
Westchase was different. More centrally located, it was neither far from the airport nor from Pinellas County's beaches. "We liked the view of the master plan—of what they wanted to build here." John added, "I'm a golfer so the golf course was a big draw."
Recalling their early Westchase days, John said, "It was a very welcoming community. One of the first couples we met were the Gastlers, Hal and Joanne. They really were wonderful, wonderful people." The Gastlers, who led multiple early resident committees and even established Westchase's first newsletter, talked John into joining their coed softball team. "I got to meet a bunch of people through that," John recalled. And Hal turned John, who grew up in upstate New York and Boston, into a dedicated Tampa Bay Bucs fan.
Sharon recalled the wonderful playgroups residents established. She also jumped into volunteering with the early Westchase crew. "I was on the Stork Committee with Amy Hak," she said of the organization that still greets the newest Westchasers home from the hospital. "There was that sense of small community where everyone knew each other."
There were holiday parties at the Westchase Swim and Tennis Center. And neighborhood Bunko gatherings. "There were so many fun activities," she said. "People moved from all different places so people wanted to meet people."
Their three children, Drew, 28, Dylan, 26, Dianna, 23, were largely born and raised in Westchase, after they moved in when Drew was just 3 months old. The Mertzlufft kids attended summer camp at the Westchase Swim and Tennis Center and later worked there as camp counselors.
John recalled the nearest place to eat out was a Beef O'Brady's. "[It was] way down in Town N Country," he added. "Every Friday night after softball we'd go there for wings and a couple beers."
Given how far they had to travel for everything, John remarked, "It was such a great thing when they finally opened up that Publix plaza. We felt we had arrived."
John even opened his first optometry office, Family EyeCare at Westchase, behind the 7-Eleven at Countryway and Linebaugh in July of 2007. He later built a new office a bit farther down Linebaugh in 2013.
That's how committed they became to Westchase.
What were they most excited about when it opened?
"We've been huge Marina's fans since its inception," said John, citing Westchase's first pizza parlor, which opened soon after Publix.
"The schools and the library," answered Sharon. "We spent a lot of time at the library doing story time with the kids."
The Mertzlufft children, she added, later served on the library's Teen Advisory Board.
When asked if Westchase became what they hoped for, Sharon didn't hesitate. "Of course! Relatives would say, 'This is just your starter home,' but we never left," she said. "It's the longest I've ever lived somewhere."
"I think it has," agreed John. "It's deed restricted so things are kept up." Laughingly admitting to having received his share of violation letters from the Westchase association, he added, "But it keeps properties up."
John said he only missed one thing from Westchase's early days: less traffic.
"It's gotten crazy. Just getting out of my office at rush hour or lunch hour, is crazy."
As happy as he has been with Westchase's development, John added that he was equally excited about how far downtown Tampa has come. When they first moved to Westchase, John said, downtown Tampa was a ghost town on weekends. "I thought that was so weird. I can't tell you how happy the last 10 years have made me with improvements," he said. "It's becoming a real destination."
But what is he most happy about?
"I've always loved being a hometown doc. Between the two of us, we know so many people in Westchase." John said. "It's been wonderful and touching to be a part of the community's families for so long."
Fran and Rosalie Fehr
Westchase, however, wasn't just for families with kids. Plenty of folks who had already raised their children also found the new community called Westchase alluring.
Fran and Rosalie Fehr bought one of the first lots in Radcliffe in December of 1993. "We actually broke ground in December of '93," recalled Fran. "We moved in the first of April 1994."
Unsure of which model home they wished to build, the initially just bought the lot for $60,000, then had Rutenberg Homes built them the home for $178,000.
"The reason we moved here was we had a two-story home in Twelve Oaks," explained Fran. "My mother-in-law was getting older and all the bedrooms were on the second story."
Fran's business also brought him regularly to Westchase. "I had golf outings out here."
During his visits, he was taken with the beautiful Linebaugh signs touting Westchase amenities like natural gas.
The clincher for the Fehrs? "We started looking for a house and found the property we wanted with woods in the background."
Their conservation lot was peaceful and saw regular visits from wildlife, including a band of about 20 turkeys.
Rosalie recalled of the early days, "You could go outside and night and not see one car and could see stars." She added, "We had a family of deer that would sleep in the backyard. They would come back at night and sleep against our fence for the longest time."
In the early months, their yard was also regularly visited by a big, wild boar. When other neighbors eventually moved in, they tried to trap him. "He outsmarted us," said Fran, stating they put a path of corn up to the door of the trap. "He'd eat up the corn up to it but wouldn't go in." Fran observed with a laugh that eventually the boar stopped visiting. "He obviously just moved away."
Among the humans visiting them frequently at the time was the Fehrs' grown daughter, Jennifer, who also fell in love with the early community. She bought one of the earliest homes sold in The Shires in January of 1995. (Jennifer later moved to The Fords, where her wife, Leslie Blaze, and she have raised their two daughters, now in college.)
When asked what he recalled about the early days in Radcliffe, Fran responded, "Well, a lot of dirt. And a lot of trucks floating around."
At the time, there was little else in what would become Radcliffe. "There were two model houses and two other families who lived here," he recalled. "We were probably the fourth family to move in and we're the only of those four to remain."
In those early years, the couple returned to the Twelve Oaks Publix to do their shopping. "We'd drive all the way to South Dale Mabry and get pizza," he recalled.
The Fehrs were understandably thrilled when the Publix plaza opened, especially Marina's Pizza. "We were probably the first or second couple to walk through the door when they opened. We're still good friends with the original owners and the owners now," Fran said. "Of course, we were also excited when West Park Village was done and the restaurants started opening there."
Westchase ultimately became everything they hoped for in the community. "Actually we never dreamed Westchase would become as nice as it is," remarked Rosalie. "We stay too much in the bubble because we have so much here."
The only thing they occasionally miss from the pioneer days is the lack of traffic and noise. Nevertheless, the Fehrs know they made the right choice 30 years ago.
"We still have every kind of animal," Fran said of the conservation area.
"I wouldn't live any other place," said Rosalie. "I think we have the best people living out here." She concluded, "People come together when they need each other."
Editor's note: I thank the Groves, the Floyds, the Mertzluffts and the Fehrs for sharing their stories and photos. It is wonderful folks like these that have made Westchase so special.
By Chris Barrett, Publisher; Photos by Heather Bossowski