There are several mountain towns in Northern Georgia that are nestled in the Blue Ridge Mountains, a range within the larger Appalachian Mountains known for their blueish tinge. My family  chose Clayton, Georgia, as our home base. Clayton is roughly 9 hours from Tampa.
From there we carved out 5 days of outings in the Blue Ridge Mountains. It proved to be the perfect getaway for our family.
Day 1: Helen, Georgia
This mountain town, about 40 minutes from Clayton, is known for its quaint cobblestone streets and Bavarian-style buildings. Helen is packed with family-friendly fun. Enjoy mini-golf, cool river tubing, ziplining and the thrill-packed Georgia Mountain Coaster.
The streets are lined with fun souvenir shops, candy shops and plenty of places to grab an Alpine-inspired bite to eat.
Anna Ruby Falls is just 4 miles from downtown Helen and it is a must see. A paved 0.4-mile footpath leads from the parking lot to the base of the falls. The hike is easy to moderate and will take approximately 30 minutes to complete. There are benches along the way.
Walking shoes are recommended since the trail can be wet and slippery. There is a fee of $5.00 per person (ages 16 & up) to visit Anna Ruby Falls, and it is well worth it. There is also a gift shop on site. Anna Ruby Falls is open daily (weather permitting) from 9 a.m.- 6 p.m.
Day 2: Whitewater Rafting on the Chattooga River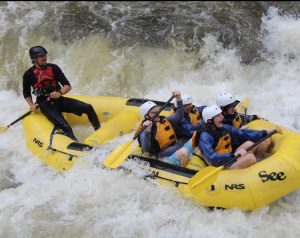 Whitewater rafting put me well outside my comfort zone. Add to that the fact that the river we rafted is the very river where they filmed the 1972 movie "Deliverance." Now, whitewater rafting is one of our family's favorite things we have done together. We opted for the Section III rafting excursion with Southeastern Expeditions. This day trip, which takes you just over the South Carolina border into Sumter National Forest, includes mostly Class 2 and 3 rapids and one Class 4 rapid. Rafters must be at least 8 years old for Section III. Those with some experience who are looking for a bit more adventure can opt for the Section IV trip. This trip is packed with Class 4 and 5 rapids, the most intense rapids east of the Mississippi. Rafters must be at least 12 years old to tackle Section IV.
During our 6-hour day on the river, we worked together as a family to (thankfully) keep our raft upright. We had a riverside lunch and enjoyed some of the most beautiful scenery on this completely untouched swath of river. Definitely a must-do if you're in the area.
Day 3: Tallulah Gorge State Park and Goats on a Roof
One of the main reasons we chose Clayton was due to its proximity to Tallulah Gorge State Park. This park is home to a spectacular canyon in the heart of the Blue Ridge Mountains that is two miles long and nearly 1,000 feet deep. Visitors can hike rim trails to several overlooks, or they can obtain a permit to hike to the gorge floor (100 per day, not available during water releases). A suspension bridge sways 80 feet above the rocky bottom, providing spectacular views of the river and waterfalls. A paved path follows an old railroad bed, perfect for strollers and bicycles. Mountain bikers can test their skills on a challenging 10-mile trail. Exhibits in the park's Jane Hurt Yarn Interpretive Center highlight the rich history of this Victorian resort town. The center also offers displays on the unique terrain and wildlife of the area.
Goats on a Roof is midway between Clayton and Tallulah Gorge in the town of Tiger, Georgia. Here, you'll find, well, goats on a roof. (Don't worry, they have full access to roam on the ground as well.) There's also a playground, gem mining, a gift shop, old fashioned candy shop and plenty of places to sit back and relax while watching the goats. The gift shop sells goat food and there are several ways to feed the goats, including using an exercise bike to pump a cup of food up to the goats on the roof.
Day 4: Highlands, North Carolina and Dry Falls
The 40-minute drive from Clayton to Highlands, North Carolina offers gorgeous vistas of the Blue Ridge Mountains along the Mountain Scenic By-Way. Highlands is packed with quaint gift shops and upscale eateries at an elevation of 4,100 feet. Along the route to Highlands, be sure to stop off at Dry Falls in the middle of the Nantahala National Forest. The coolest thing about these 80-foot falls is the paved path that leads down from the parking lot, taking you inside the recessed ledge behind the roaring waters for a view of the backside of the falls. It even impressed my teens!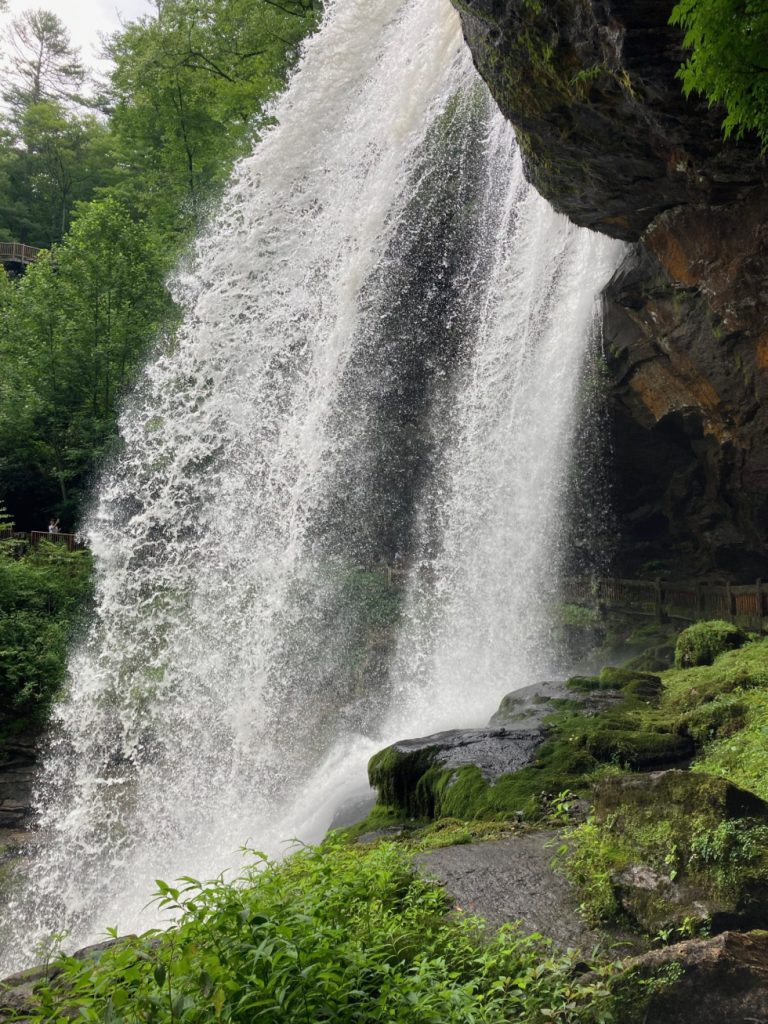 Day 5: Downtown Clayton and downtime 
Downtown Clayton is small but boasts a number of unique shops and several excellent dining options.  Wander North Georgia, a locally owned mountain gear shop, was our favorite stop. This place is packed with outdoor gear, tons of books, clothes, toys and even pet gear. Clayton also has a number of excellent eateries, including the farm-to-table Fortify Kitchen and Bar, pizzeria Fortify Pi and the quirky Fromage & Other Fine Foods.
But, perhaps the best thing about a stay in the Blue Ridge Mountains is finding your very own home away from home to relax together as a family after a day of adventure. We found the perfect spot on Airbnb. Mountain views topped our wishlist and our cabin, dubbed Heaven Cent, offered stunning views from a screened porch and two-story deck. Both Airbnb and VRBO offer a number of cabin rentals in the area – from traditional log cabins nestled in a vallery to modern vacation homes perched atop a mountain.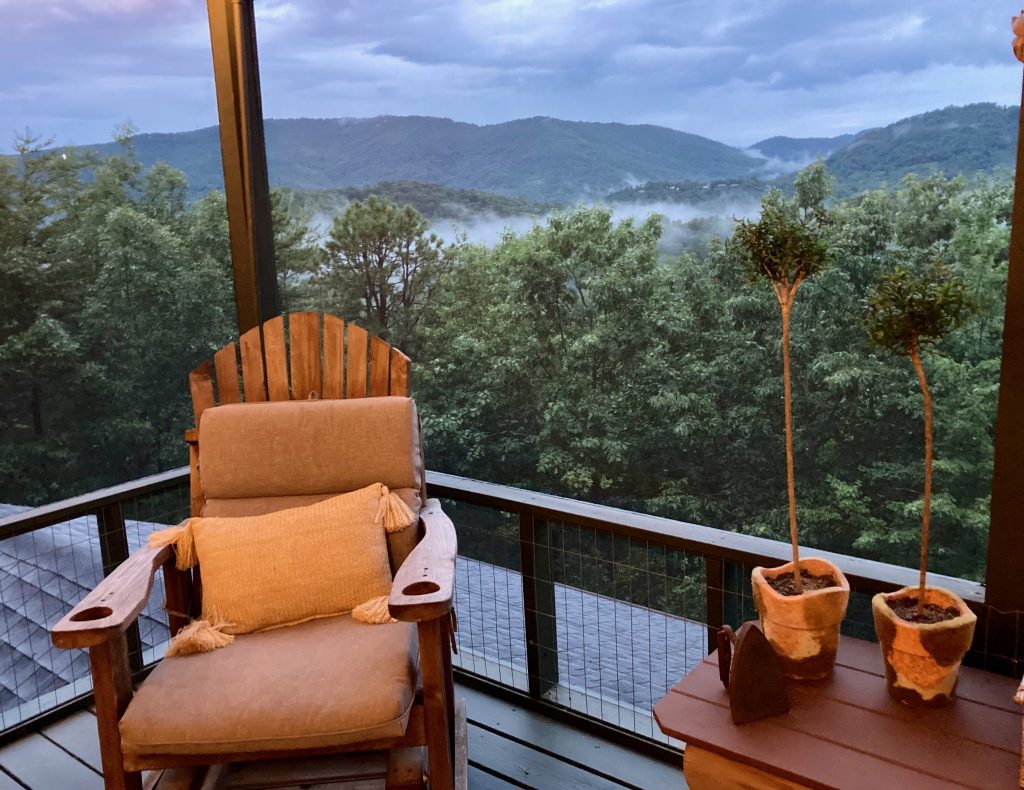 Whether you are looking for a summer getaway, a fall foliage destination or a home away from home for the holidays, the Blue Ridge Mountains is an ideal road trip destination.
Happy travels!