Rachel Carson once said, "For the sense of smell, almost more than any other, has the power to recall memories, and it is a pity that we use it so little."
Scents can evoke feelings, places and experiences, but recapturing a specific smell can be difficult. Fortunately, the Candle Pour in Hyde Park Village makes it easy.
From agave and apple to vintage library and white tea, the Candle Pour allows you to make your own scented candle, diffuser or wax melts by combining a handful of more than 100 fragrance oils. Misty and Dennis Akers opened the business in 2019 and tout it as "Tampa's first pour-your-own custom candle experience."
I visited the shop on a Sunday afternoon with my teenage son, and a scent specialist greeted us almost immediately. I had a reservation for one, (my son didn't want to make his own candle) and I was told to find a seat at the Pour Bar. The Candle Pour welcomes walk-ins on a space available basis, but highly recommends making reservations to guarantee a time slot. They require a $10 deposit when making a reservation, which is either refunded or can be used toward an accessory purchase.
The specialist then handed me a checklist filled with the names of all the available scents and led me to a wall lined with candles of various flavors that were placed in alphabetical order. She told me to take the cork lids off of each candle that interested me and smell its lid, as it's the most accurate representation of the scent. She advised me to circle up to a dozen scents that I liked and put a star or heart next to my absolute favorites.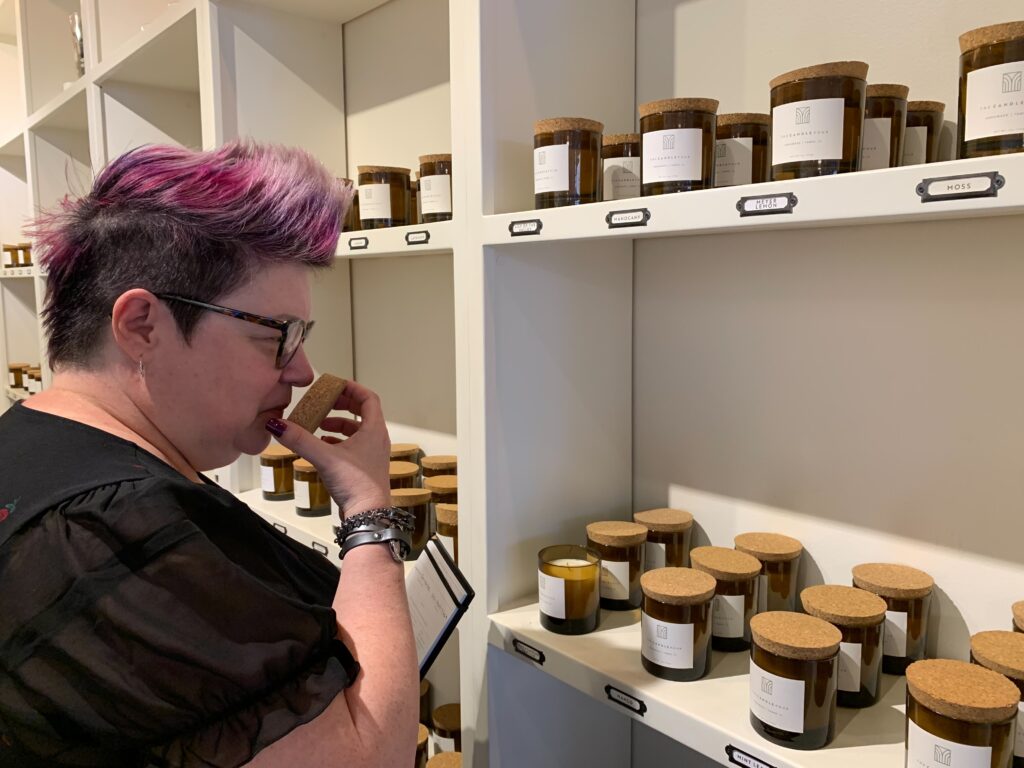 I started by smelling scents I immediately suspected I would like, including Meyer lemon and Key lime. I became more adventurous as I went on, and added Pacific coast, bacon, Cuban tobacco and ginger ale to my trials. By the time I had selected my dozen, my favorites clearly leaned toward the sweeter scents, like burnt sugar, banana nut bread and chai tea.
My scent specialist then asked me to choose the product I wanted to make. The options included a classic, two-wick or three-wick candle in one of four different colored containers; a reed diffuser; fragrance oil; or wax melts. Prices ranged from $20 to $60. I opted for a three-wick candle. The Candle Pour also sells accessories, including wick trimmers, snuffers, trays and an assortment of matches.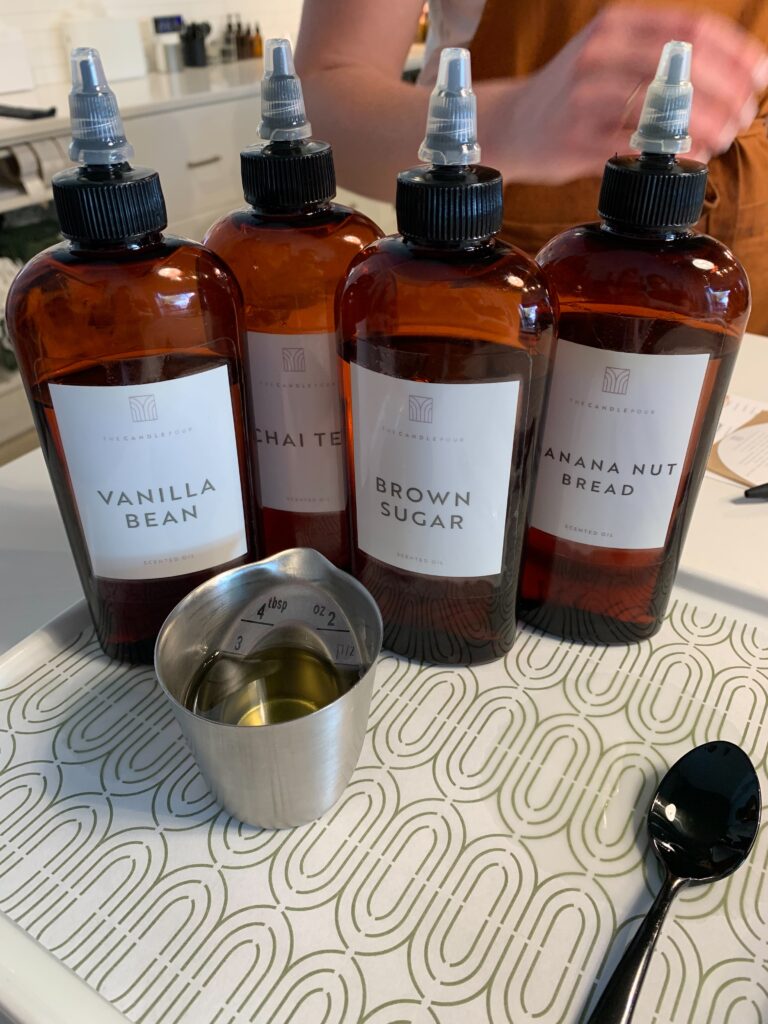 Based upon the scent selections I had favorited, my specialist selected about a half dozen from the list and pulled out bottles of those essential oils for me to smell individually and in varying combinations. She made suggestions and steered me away from certain combinations to ensure I would have a final product I liked.
I was supposed to select no more than four oils that I wanted in my candle. I combined chai tea, banana nut bread, vanilla bean and replaced the burnt sugar that I had initially favorited with the less sharp brown sugar.
A spoon and a small measuring cup were already at my station, and my specialist instructed me to add small amounts of each oil to the cup. After I had added the initial amounts, she told me to stir the mixture and smell the spoon. She then advised me to continue adding small amounts of each oil, adjusting them based upon my intermittent smell tests.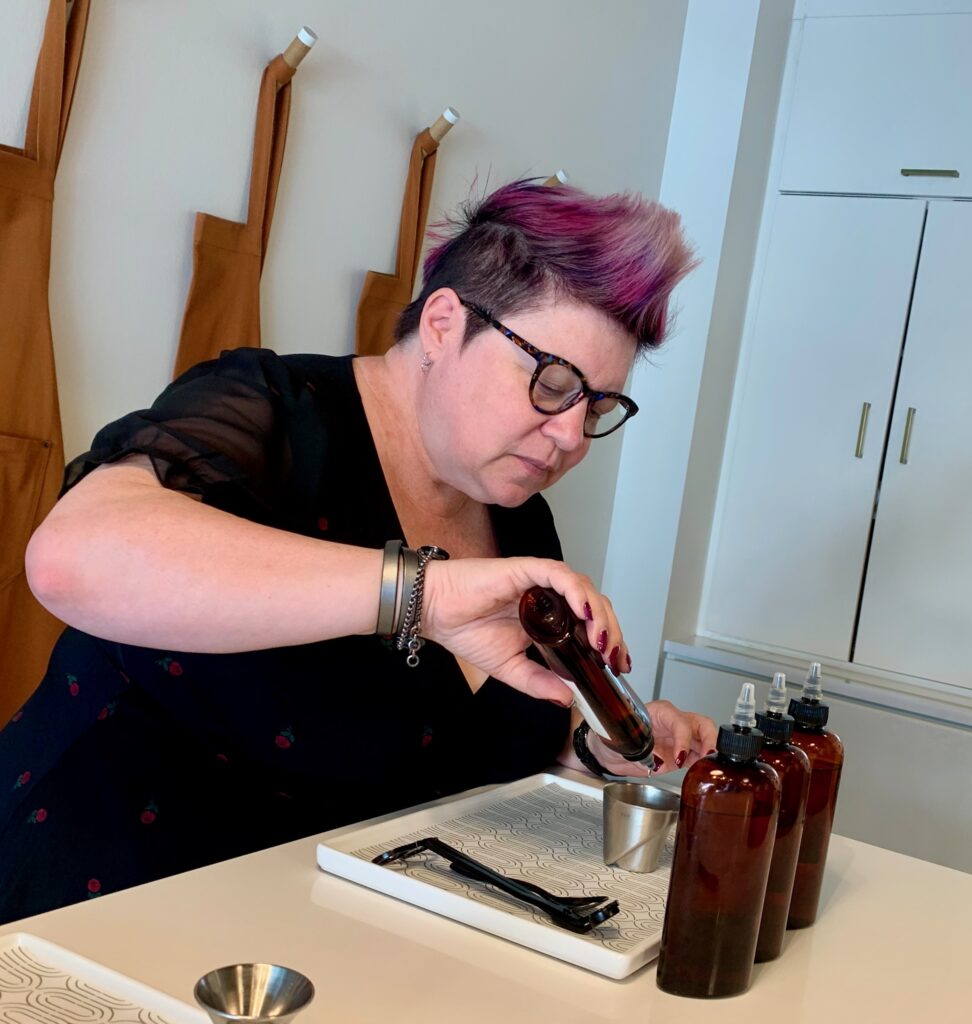 I continued adding varying amounts of each to my cup until I had achieved a satisfactory scent combination and a total of 1.5 ounces of oil, which was required for the three-wick candle. After securing the wicks and pouring the hot wax into my selected container, my specialist brought it to me and instructed me to hold the wicks and pour my oil mixture into the container. She asked me to stir continuously for a few minutes until the oils had been sufficiently distributed through the wax.
The entire process lasted about 45 minutes. Each candle must set for two hours before it can be taken home, so same-day pickup is unavailable for the last two reservation hours of the day. I had to return within the week to pick up my finished product. Flameless options may be taken home immediately.
I went back to the Candle Pour a few days later to pick up my finished product, and it smelled delicious! It reminded me of mornings spent baking banana bread with my husband. The process of creating the candle (with the help of my son) was a lovely experience, and burning my candle has already inspired new scent memories!
The Candle Pour welcomes all ages, but requires one-on-one parental supervision for children under the age of eight. They have a private event room and options available for groups larger than 13.
The Candle Pour is open seven days a week. For more information, or to book a reservation, visit thecandlepour.com or call 813-284-0621.