A visit by Jacques Cousteau left him with the impression this aqua oasis had "visibility forever."
Just outside of Gainesville, on the Santa Fe River, lies the historic village of High Springs. This charming old Florida town is dotted with Victorian and Craftsman style dwellings, quaint shops and restaurants, and is home of the famous Ginnie Springs.
Sitting on 200 privately owned wooded acres, this slice of paradise is home to seven springs accessible from the river. Deer, Twin, Dogwood, Ginnie and the Devil's Spring systems, which also include the Devil's Eye and Ear, are each unique in their size and features. Most lie directly on what is considered one of the best rivers in the state for recreation. The tannins of the tea-colored Santa Fe River merge with the crystal waters of the springs in the confluence, in what can only be described as a rainbow of water.
Whether your idea of the perfect day involves tubing, swimming, paddleboarding or kayaking, at 72 degrees year-round, splashing into it is always welcome. In fact, during holiday weekends and summer months, hundreds can be seen floating downriver on anything from giant unicorn floats to basic innertubes. Using the river as an aquatic highway to jump from spring to spring, with its cypress-lined banks, visitors can indulge their inner child on one of the many rope swings and ladders to plunge into the refreshing water (at your own risk of course). Crowds will often gather and watch some of the acrobatics ensuing, and cheers can be heard well up the river. It makes for quite a show if you choose to float by rather than stop and participate.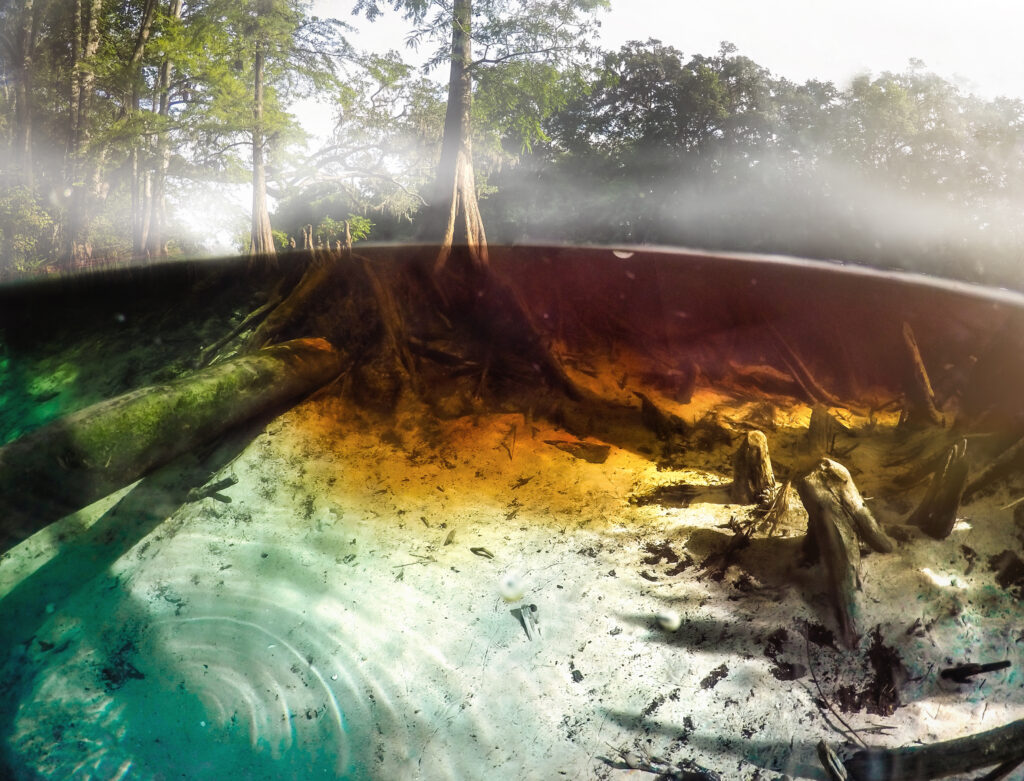 Underwater, fish and turtles dart by while you explore the aquatic oasis. If visiting for the day isn't enough, camping is also a popular choice, with many primitive sites sitting directly on the bank of the river and springs. Those are on a first come, first serve basis. Full-service hookups for RVs are available by reservation, all set back into the woods with most having a grill and picnic table. We spent two nights there and it was the perfect amount of time for my family. If you are looking for more to do in the area, Poe Springs, Rum Island and Gilchrist Blue Springs are nearby.
A weekend in the waters of Ginnie Springs and its underwater paradise will recharge the body and soul, and may leave you and your family feeling like the next Jacques Cousteau.