When you live in Florida, it is easy to get caught up in the day-to-day and take for granted that fact that we live in a vacation paradise that attracted over 105 million visitors in 2022. February, with its mild temperatures and lower crowds, is the perfect month to get out and explore all that our state has to offer. Whether you're a native looking to reconnect with the Florida of your youth or a transplant looking to re-ignite the excitement of being a newcomer, here are 10 things to love about Florida and some fun ways to experience them this time of year.
Manatees
Florida's coastal waters, rivers and springs are home to our very own sub-species of the West Indian manatee: the Florida manatee. The winter months are the best time to view
our beloved sea cows as they huddle together to keep warm. One of the best local viewing spots is the TECO Manatee Viewing Center at the Big Bend Power Station in Apollo Beach. The power station's discharge canal provides critical protection from the cold for these unique animals. Viewing is best when the temperature is below 68 degrees.
For even more viewing opportunities and the chance to swim or kayak alongside these gentle giants, head north to Crystal River. Originating in Kings Bay and running out into the Gulf of Mexico, this stretch of water has been dubbed the "Manatee Capital of the World." November 15 through March 31 marks the official manatee season and Crystal River offers numerous ways to view these creatures, while also offering them safe refuge. Learn more at westchasewow.com/crystal-river.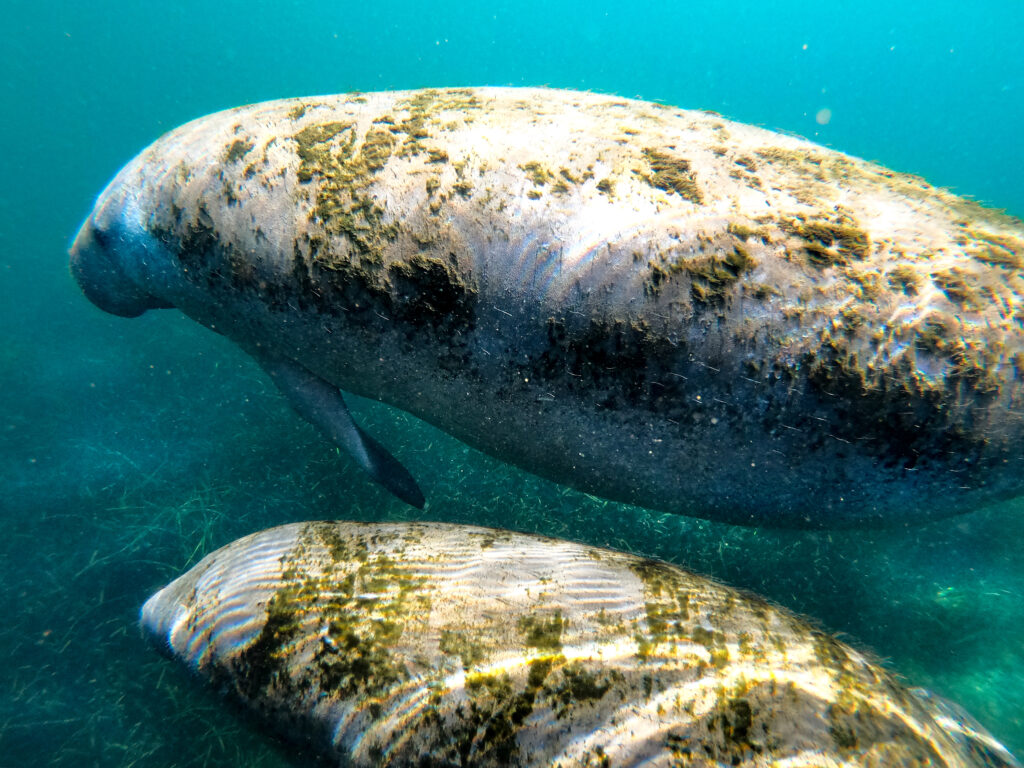 Baseball
During the months of February and March, Florida plays host to 15 Major League Baseball teams that comprise the Florida Grapefruit League. This Spring Training tradition, dating back more than 100 years, draws millions of baseball fans to the state each year. Pre-season practices and games are held at ballparks across the state, including BayCare Ballpark in Clearwater and George M. Steinbrenner Field in Tampa. Learn more in our Spring Training primer on page 58 of this issue.
Beaches
Florida is world famous for its miles of pristine, white-sand beaches – 825 miles to be exact. While the beaches are glorious in the summer, some are even better in the winter. Just 12 miles from Westchase, Honeymoon Island is a great winter option with four miles of beach and three miles of wooded trails perfect for hiking and bird-watching. This is also a great spot for a picnic or frolicking with Fido at the dog beach on the island's south end.
Those looking for a weekend getaway will find a unique stretch of beach on the Atlantic Coast at Blowing Rocks Preserve. Located on Jupiter Island, the preserve was named for its rocky Anastasia limestone shoreline. At high tide when the sea is rough, it breaks against the rocks and forces plumes of saltwater up to 50 feet in the air. The winter months, with rougher seas and larger waves, are a great time to see the blowing rocks in action. The preserve also features five short trails and scenic walks through the mangroves. Learn more about all there is to do in Jupiter at thepalmbeaches.com/explore-cities/Jupiter.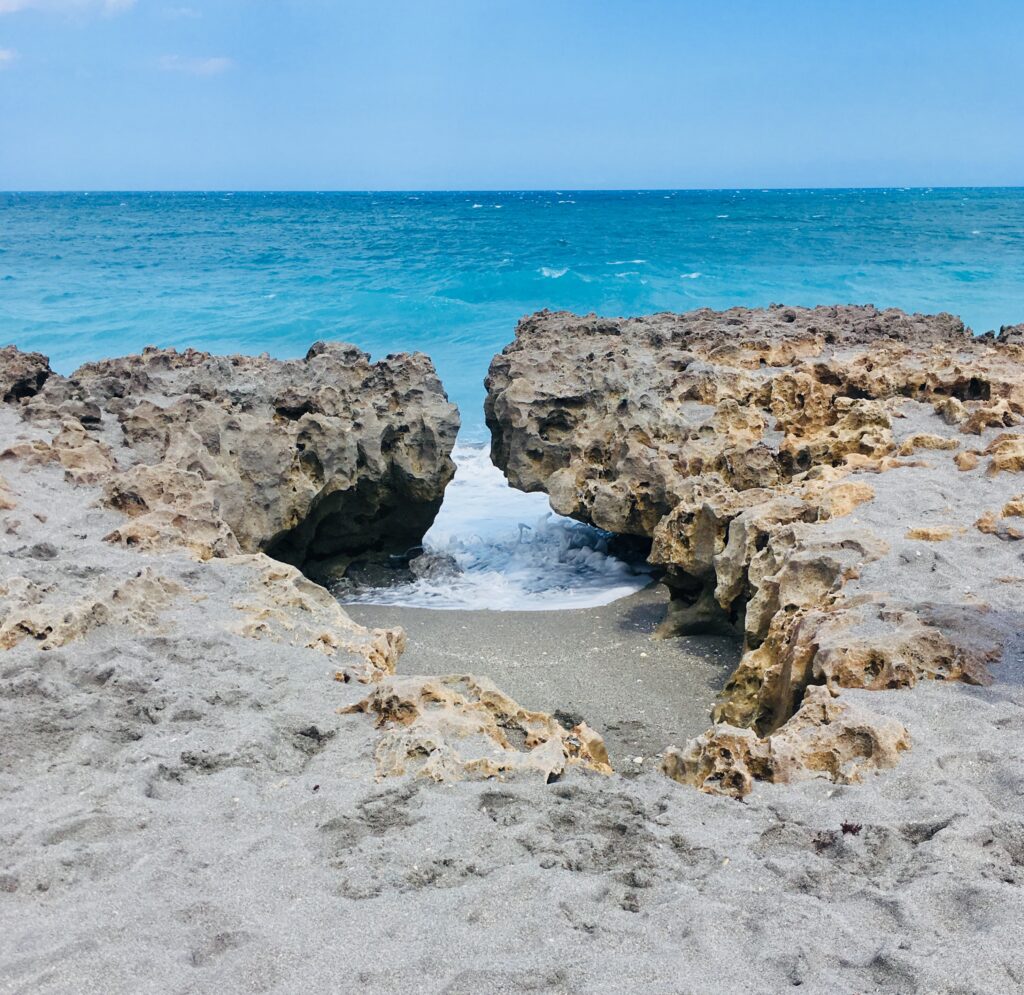 History
Florida is steeped in history. In Tampa Bay, you can walk in the footsteps of the Tocobaga tribe at Philippe Park, learn the origins of the city's cigar industry in Ybor City and discover the glory days of the railroad at the Henry B. Plant Museum. Perhaps the best place to explore the origins of the Florida we know today, however, is in St. Augustine. Founded in 1565, St. Augustine is the oldest continuously occupied settlement of European and African American origin in the United States. The off-season months are a great time to explore without the crowds. The focal point of the city's history is Castillo de San Marcos, the oldest masonry fort in the continental U.S. and a National Monument. Other highlights include St. George Street, St. Augustine's Lighthouse and Maritime Museum, and The Fountain of Youth Archaeological Park, where you can drink from Ponce de Leon's Spring of Eternal Hope. Discover all the city has to offer at visitstaugustine.com.
Citrus
Christopher Columbus brought the first citrus to the New World in 1493. Spanish explorers planted the first citrus seeds in Florida nearly 50 years later. Today, nothing says "Florida" quite like picking your very own sweet citrus right out of the grove. Dooley Groves in nearby Ruskin grows 10 varieties of citrus that ripen at different points during the season that runs November through April. February is prime time for Honeybells and Ortaniques (a cross between and orange and a tangerine). Grove Guides lead you to the best place to pick your variety and show you just how to pick that perfect fruit. Learn more at dooleygroves.com.
For a citrus-themed day trip, head to Citra, Florida, home of The Orange Shop, a family-run roadside farm stand that has been in operation since 1936. Not only does it offer tons of fresh citrus and souvenirs, but it is also home to an iconic, Instagram-worthy sign. Learn the history of the store at floridaorangeshop.com.
Theme Parks
In 1878 Phillip Morrell converted a rowboat into a glass-bottomed boat, an invention that made Silver Springs a tourist attraction. The state has come a long way since then and is now the indisputable theme park capital of the world. February is that prime time between the holidays and spring break when you just might catch a break with the crowds. Of course, we have Busch Gardens right down the road. But the beauty of living in proximity to theme park megastars Disney and Universal is that you can get a taste of these tourist meccas without a ticket. At Disney, you can explore Disney Springs and the Disney resorts (minus the pool areas), dine at resort restaurants, ride the many modes of transportation (including the monorail) and even catch the fireworks from the Contemporary or Grand Floridian – even without a park ticket. Parking is always free at Disney Springs and is free at resorts with a dining reservation.
Universal's CityWalk offers a fun way to get a dose of their park without a ticket. From themed restaurants and souvenir shops to a miniature golf course, there's tons of fun to be had. You can even hop on the complimentary resort ferry and take a stroll through the grounds of their four on-site hotels. As an added perk, CityWalk parking is free after 6 p.m. for Florida residents.
Birds
With more than 500 species of birds, Florida is one of the best birding locations in the world and we are fortunate to have a number of these majestic birds in our neighborhoods on a daily basis. The winter months bring additional species from the North: Warblers, goldfinches, American robins and swallow-tailed kites to name a few. February is the perfect month to explore the Great Florida Birding and Wildlife Trail, a 2,000-mile, self-guided highway trail. There are 20 trail sites within Hillsborough County and another 15 in nearby Pinellas County. All offer the opportunity to enjoy the great outdoors and experience Florida's diverse wildlife up close. You can find the complete list of trail sites at floridabirdingtrail.com.
The Everglades
Covering 2,400 square miles, Everglades National Park is the third largest park in the lower 48 states and offers a landscape unlike any other in the world. February is a great time to visit to avoid the heat, rain and mosquitoes. The closest entrance point to Westchase, Gulf Coast Visitor Center, currently has limited tour options due to Hurricane Ian. Just shy of four hours from Tampa, Shark Valley Visitor Center is an ideal entrance point to view the park by bicycle, foot or guided tram tour. Another fun way to get into the heart of this diverse ecosystem is by airboat. Choose from three authorized operators that offer professional airboat tours inside the park. Find everything you need to know to plan a trip to the Everglades at nps.gov/ever/planyourvisit.
Rockets
The first rocket launch from Cape Canaveral took place on July 24, 1950, and space has been an integral part of Florida's culture ever since. NASA established what is now Kennedy Space Center on Cape Canaveral in 1962. In 1963 they founded a university to provide talent for the growing space program – it is now known as the University of Central Florida. (Fun fact: the 50-yard line of UCF's football field lines up on the exact latitude of NASA's historical Launch Complex 39A.)
Today, the space industry in Florida is alive and well. In 2022, there were a record 57 missions launched from Florida's Space Coast, including the launch of NASA's most powerful rocket to date: the Artemis I. To keep tabs on scheduled launches and plan a trip to the best viewing areas along the East coast, visit spacecoastlaunches.com. A trip to Kennedy Space Center is also a great way to stay connected to our state's space culture, and February is a great time to visit to avoid the crowds. Plan your visit at kennedyspacecenter.com.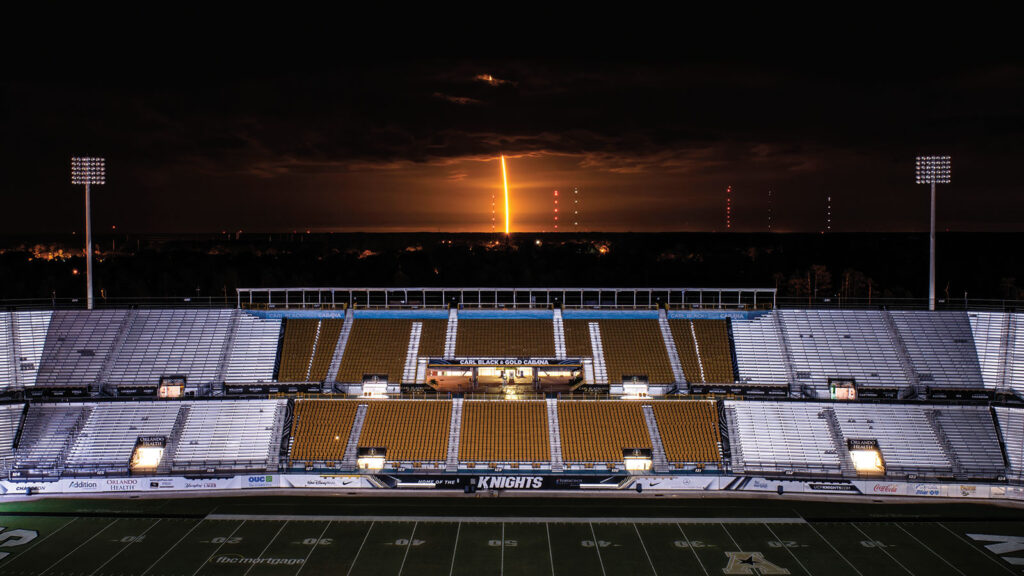 Natural Springs
Florida's natural springs are world-renowned for their beauty. With more than 1,000 springs, the Florida Department of Environmental Protection estimates our state has the largest concentration of freshwater springs on the planet. The constant average temperature of 72 degrees provides refuge for manatees in the winter months and recreation for humans year-round. Rainbow Springs, just over an hour up the road, is considered the most beautiful of the state's 33 first-magnitude springs. Massive crowds converge on the area in the summer to swim and tube in the refreshing waters. Winter is less crowded and is the perfect time to hike the park's scenic trails and paddle down the crystal-clear waters while looking out for river otters and wading birds. Find more fun to be had in nearby springs at westchasewow.com/natural-springs.
This February, get out and enjoy the glorious weather and take some time to rediscover all there is to love about the Sunshine State.