Sitting on Old Tampa Bay between Rocky Point and Bayshore Boulevard in Clearwater lies a stretch of dedicated pavement that is a recreational playground, with easy access from the road.
Considered to be one of the best stretches for biking in the area, the Courtney Campbell Trail offers riders the perfect scenic byway to traverse the crystal waters of the bay. At one point, it was one of the longest over-water filled causeways in the entire country.  Beginning at Ben T. Davis Beach on its eastern end, it's the perfect spot to swim and cool off before you set off on your ride. Along the trail are many places to stop and enjoy a picnic lunch, should you so desire. However, if you prefer to dine on a more substantial meal prior to departing on your adventure, Whisky Joe's, located near the trailhead, offers a variety of food and drink, along with killer views, especially at sunset. As you start pedaling, you will find the trail to be a breeze, quite literally, with cooling winds on the open waters. And as the only elevation is a 230-foot-long bridge that sits about 49 feet high, the otherwise flat terrain makes for easy pedaling. The gradual ascent takes you to an outstanding vantage point that has views for miles. Take it all in before coasting down the bridge onto the second half of the palm tree and mangrove-lined trail. Shorebirds abound, and the rocky outcroppings are the perfect spot to stop to take a dip, or beach comb for Kings Crown, which are plentiful in the bay. Tiny crabs can be seen darting in and out of their homes along the mud and rocks. Dolphins frolic off the coast in search of lunch. The 12-foot-wide trail continues down toward another unnamed beach, with a few parking spots and sometimes a food truck or two. It can get busy at both the eastern and western beaches, especially on the weekends; fortunately, parking along the entire trail length is free and plentiful.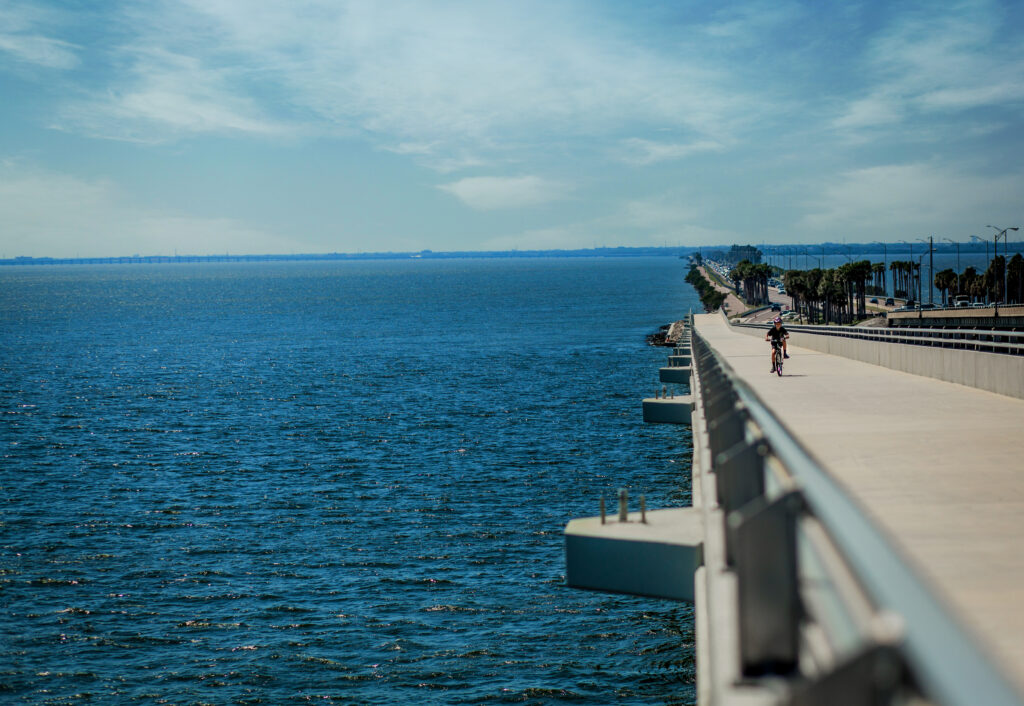 If biking isn't your thing, the trail is shared amongst skateboards, scooters and walkers as well. Many choose to just pull up their car and lazily spend the day swinging in the breeze inside of their hammocks, while listening to music or grilling, fishing or playing ball in the shallow waters of Tampa Bay.
If you are looking for an inexpensive way to enjoy a spring day with the family just minutes from Westchase, the Courtney Campbell Trail offers a plethora of ways to get outside for some Vitamin D.