If the definition of insanity is trying the same thing over and over again but expecting different results, I am certifiably insane. I love plants, but have the opposite of a green thumb. I buy them and am determined that each new addition to my short-lived collection will be the exception to the rule and will flourish under my care.
With this in mind, I invited my friend, Nicole, to join me at Cactus Moon, an adorable plant and gift shop and event space located on Nebraska Avenue in Seminole Heights. We registered online for a succulent cigar box workshop that was scheduled to take place at 11:30 a.m. on a Saturday. Nicole's plants thrive under her watchful eye, and I was hoping that some of her positive plant mama energy would rub off on me.
We arrived at the shop a few minutes early and were invited to look around at the plethora of plants and gifts it holds, while our instructor finished setting up for the workshop. We encountered seemingly endless displays of plants of all shapes and sizes in a variety of different containers.
There were also a number of gift items available for purchase. Owner Crystal Desilet said the shop sells jewelry, ceramics, art and clothing from more than 20 local business owners, many of whom also sell their wares at Cactus Moon's monthly outdoor market.
As we neared the starting time for the workshop, the instructor showed us to the back room of the shop where there was a table holding a number of empty wooden cigar boxes on it. The boxes varied in size, color, and design and she encouraged each participant to select their favorite.
I have an affinity for sugar skulls, and Nicole immediately spied a box from the Deadwood Tobacco Co. that featured a sugar skull–adorned woman named Fat Bottom Betty and handed it to me. Its tagline read "Love is for Suckers – Cigars are for Lovers." She had found the perfect vessel for my succulent garden.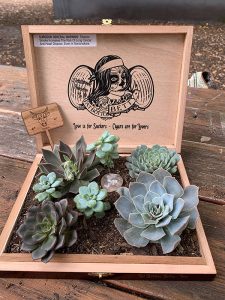 After selecting our boxes, we headed out to the large garden area behind the shop and sat at one of four picnic tables. Our instructor provided each table with a bucket of soil along with scoops for it, and there was a fifth table that held several dozen succulent plants of varying sizes. The table also had crystals, tiny signs on posts, and other small garden accessories.
Our instructor told us to use the scoops to fill our boxes with dry soil. While we were doing that, she called each table one at a time to select the four to six plants we wanted in our gardens from those available on the table. She provided us with information about the various plants, and suggested combinations that would go well together or would fit better in our individual boxes, which varied in depth. My box, for example, was quite shallow, which made it more suitable for plants with equally shallow root beds.
We then added plants to our gardens one at a time, supplementing the soil as we went. Our instructor wandered from table to table, answering questions and offering advice. When we had all of our plants where we wanted and had stabilized them with the appropriate amount of soil, we were invited to purchase additional garden accessories, most of which cost a few dollars each. I opted to add an amethyst crystal and a small wooden plaque that featured my Zodiac sign to my small garden.
The event listing had stated that it was BYOB, and Nicole had come prepared with a beer for each of us. The garden was cool, shady, and filled with gorgeous plants, and once we had completed our succulent gardens, we asked whether we could continue to sit and enjoy our drinks. Our instructor said we could stay as long as we wanted, and we spent a good hour or so chatting before we headed back inside to finish perusing the plants and gifts in the shop.
In addition to onsite public workshops, Cactus Moon holds classes and events at other local sites, including Armature Works and area breweries. Workshops may involve assembling fairy gardens, terrariums, centerpiece boxes, wreaths or other plant-related projects. Cactus Moon hosts private workshops and events, too, including bridal and/or baby showers, birthday parties, weddings, and more, either outside or in their air-conditioned workshop room that seats up to eight people.
Local residents can visit cactusmoonmarket.com to order plants, cacti, centerpieces, and small gardens that are available for next day delivery or to register for upcoming workshops. Cactus Moon's monthly market is held on the second Saturday of every month from 5 to 9 p.m., rain or shine, outside of the shop on Nebraska. The shop is open Tuesdays from 1 to 5 p.m., and Wednesdays through Sundays from noon to 4 p.m.
(Two months later, and I'm pleased to report that my cigar box succulent garden is thriving!)